Draghi's Fresh Stimulus Provokes Dissent While Lifting Markets
By , , and
ECB survey shows analysts raising long-term inflation outlook

Decision to keep QE open was opposed by Bundesbank and others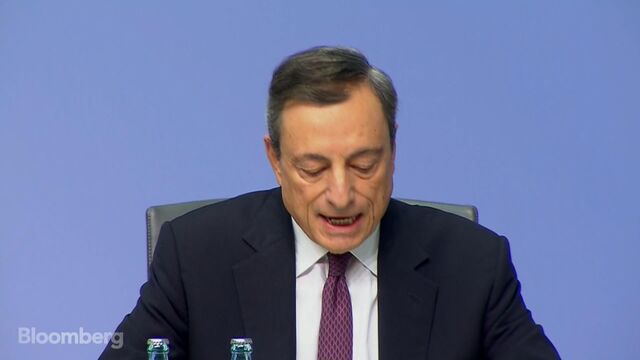 As markets cheer European Central Bank President Mario Draghi for keeping the exit from monetary stimulus wide open, the decision is sitting uneasily with some of his colleagues.
A day after policy makers extended their bond-buying program for a third time and pledged to do yet more if needed, Bundesbank President Jens Weidmann went public with his opposition by saying a firm end-date should have been set. He spoke a few hours after the ECB published its own survey showing that professional forecasters raised their long-term inflation outlook to the highest level in two years.

"A clear end of net purchases would have been appropriate," Weidmann said in a speech at the German embassy in Paris on Friday. "The development of domestic price pressures shown in projections is in line with a trajectory that will take us toward our definition of price stability."
Weidmann wasn't alone in his dissent. A handful of the 25 Governing Council members opposed the pledge to extend the size or duration of QE if needed, central-bank officials familiar with the matter said, asking not to be identified as the deliberations were private. Draghi said in his press conference on Thursday that a "large majority" backed the decision. An ECB spokesman declined to comment.
The chief concern for the ECB president is that while the long-term inflation outlook is improving -- he himself said in June that "reflationary forces are at play" -- near-term prices pressures remain weak. That was behind the idea to cut monthly bond purchases in half to 30 billion euros ($35 billion) from next year, but extend them for nine months and hold off from promising a complete halt.
Investors read the decision as dovish, sending the Stoxx Europe 600 Index up 1.1 percent on Thursday for the biggest gain in more than two months. It climbed about 0.4 percent on Friday while the euro, another risk that Draghi stressed after the currency surged this year, fell for a second day.

German newspaper Boersen-Zeitung reported that Weidmann was joined in his opposition by Executive Board member Sabine Lautenschlaeger and Dutch Governor Klaas Knot. It also said others including Executive Board member Benoit Coeure, one of the architects of QE, were critical but didn't necessarily reject the outcome.
The ECB may still be close to ending asset purchases. Policy makers implicitly assume the program will be tapered to a halt by the end of next year so long as the inflation outlook improves, according to officials with knowledge of the discussions. In seminars on Wednesday, governors were presented with a potential scenario that foresaw buying tapered after September in monthly steps to 20 billion euros, 10 billion euros and 5 billion euros and then stopping, one official said.
Still, extending the program without changing the pace of purchases is also a credible option if inflation doesn't show sufficient progress, one of the people said.
Improved Outlook
Respondents in the ECB's Survey of Professional Forecasters raised their inflation outlook for 2022 to 1.9 percent from 1.8 percent three months ago. That's in line with the ECB's goal of just under 2 percent.
Data next week will give more information on the euro area's economic health with the first estimate of third-quarter gross domestic product, which probably expanded by 0.5 percent from the previous three months. That would mark the region's 18th consecutive quarter of expansion and put the economy on course for the best year in a decade.
Yet Draghi said inflationary pressures are still lackluster and any pickup is contingent on "ample" monetary support, a slightly toned-down phrasing that Bank of France Governor Francois Villeroy de Galhau emphasized on Friday.
"We said we will continue to insure 'ample' monetary support rather than 'very substantial' as we said in our previous statements," Villeroy said in Paris. Thursday's decision to slow asset purchases was "an essential step toward their possible end later."
Before it's here, it's on the Bloomberg Terminal.
LEARN MORE