business
Bombardier Likely to Miss 2017 Delivery Goal for Marquee Jet
By
Engine problems have added to delays for C Series aircraft

More schedule details will come Nov. 2 with earnings report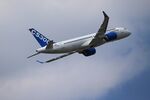 Bombardier Inc. will likely fall short of the full-year delivery target for its cutting-edge C Series jet amid a shortage of available engines, analysts said.
Delivery of 12 planes that had been scheduled for this year will probably slip into 2018, said Konark Gupta, a Macquarie Capital Markets analyst. That would mean Bombardier delivers 18 of the jets this year instead of 30, according to a note Gupta published Friday that cites "proprietary delivery tracking." 
United Technologies Corp., whose Pratt & Whitney unit is a major supplier of the C Series, has been grappling with durability issues affecting the geared turbofan engines that power the new fuel-efficient jetliner. The engine manufacturer is rolling out fixes for the problems this year.

Bombardier is reviewing its 2017 delivery plans following an update provided Tuesday by United Technologies, according to an email from Nathalie Siphengphet, a spokeswoman for the Canadian jetmaker. The Montreal-based company "is working closely with Pratt & Whitney to evaluate and mitigate any potential impact on its customers and will provide a full update" Nov. 2 with its earnings release, she said.
A missed target would add to a history of setbacks for the C Series, which was more than two years late and more than $2 billion over budget when it began commercial service at Deutsche Lufthansa AG's Swiss International unit in July 2016. Bombardier has been saying for several months that it would deliver 30 C Series jets in 2017, having shipped seven in the first half of the year. Deliveries will be "back-end loaded," Bombardier Commercial Aircraft President Fred Cromer said in June.
Right Move
"There's not a chance they get to 30 this year," said Chris Murray, an analyst at AltaCorp Capital in Toronto. "They should err on the side of caution. The right program call is to fix the engine before delivering the jets." Murray expects between 20 and 30 jets to be shipped by the end of December.

Korean Air delayed the delivery of its first C Series plane, the CS300, to make sure that issues with the engines are resolved, FlightGlobal reported Thursday, citing Walter Cho, the carrier's president. In February, Korean had said it expected to receive seven CS300s this year, FlightGlobal said.
Bombardier expects to deliver the first CS300 to Korean "in the next few weeks," Siphengphet said. The planemaker last week agreed to cede control of the partnership that builds the C Series to Airbus SE in exchange for the European planemaker's marketing and manufacturing expertise.
Through June, Bombardier has won 360 firm orders for the C Series. Delta Air Lines Inc. is the biggest buyer, with a firm order for 75 aircraft and options for 50 more.
(
Updates with total orders in last paragraph. An earlier version of this story corrected the number of jets delivered in the first half of 2017.
)
Before it's here, it's on the Bloomberg Terminal.
LEARN MORE