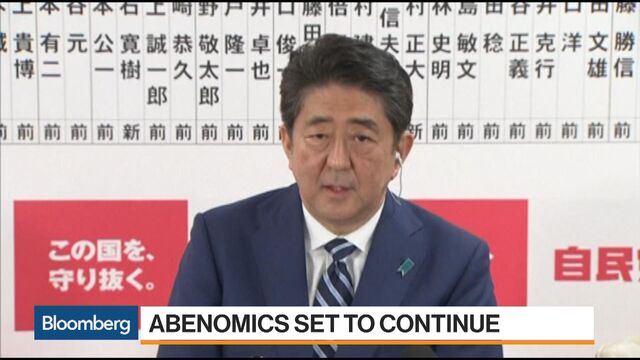 Fresh from his third straight general election victory, Japanese Prime Minister Shinzo Abe must refocus on two overarching challenges: Dealing with North Korea and adapting Japan's economy to its aging and shrinking population. Tackling those issues will involve decisions that look set to divide voters, less than a year before a party leadership election in which Abe is likely to face competition from other members of his ruling Liberal Democratic Party. Any missteps could jeopardize Abe's chances of retaining the leadership and becoming Japan's longest-serving prime minister.
1. What's the strategy on North Korea?
In August and September, North Korea fired missiles that flew over Japan. Abe, 63, has vowed to step up diplomatic efforts to pressure Kim Jong Un's regime over its ballistic missiles and nuclear weapons. Abe has kept security ties with the U.S. on track by building a close personal relationship with U.S. President Donald Trump, who is set to visit Japan next month. But relations with China remain chilly. Abe hopes to meet President Xi Jinping in Vietnam in November.
2. What's in store for the economy?
Abe said he called the election to test public opinion on his plan to divert some of the revenue from a planned 2019 sales tax hike to reducing the costs of education for families. Hiking the tax to 8 percent from 5 percent in 2014 sparked a recession -- and Abe has twice balked at a second increase to 10 percent. By publicly earmarking some of the cash for families, he has made it more difficult to reverse course without angering a large proportion of the electorate. But going ahead won't be popular either: A poll published by the Yomiuri newspaper on Oct. 25 found 37 percent of respondents said the tax should not be raised. The remainder were divided on how revenues should be spent, with some wanting Japan to repay its debt, which is about 220 percent of gross domestic product. The plan to fund education costs from the sales tax would mean putting off a target for achieving fiscal balance.
3. How is Abenomics going?
During the election campaign, Abe vowed to speed up Abenomics -- his program for defeating the deflation that has long dogged Japan's economy. However, he gave few details, instead emphasizing the improvements in employment and corporate profits since he took office in 2012. Much of that progress can be attributed to the ultra-easy monetary policy introduced under Bank of Japan Governor Haruhiko Kuroda. Abe must decide whether to keep Kuroda in place when his term runs out in April. Also on the positive side, the economy is enjoying its longest expansion since 2006.
4. What is Abe planning for the workforce?
He has promised "working-style reforms," a mixed bag of proposals including one aimed at improving productivity by compelling firms to hold down overtime. Then there's the "white-collar exemption" that would allow highly paid professionals to be compensated for results rather than hours worked. In a Nikkei newspaper poll in August, that policy was supported by 43 percent of respondents and opposed by 35 percent. Strict limits on overtime could burden firms with an unmanageable amount of paperwork, ultimately reducing employment, according to Robby Feldman, senior advisor at Morgan Stanley MUFG Securities Co Ltd.
5. What else does Abe plan?
For the first time, his party campaigned on changing Japan's pacifist constitution as one of its main policy pledges. While his coalition retained the two-thirds majority needed to pass an amendment that would pave the way for a stronger military, it is unclear whether an agreement can be reached on the wording of any revision. While Abe has vowed to reach out to opposition parties to seek a consensus, negotiations would be time-consuming. And, despite the threat from North Korea, opinion polls show the electorate remains deeply divided over any change to the war-renouncing Article 9.
The Reference Shelf
Before it's here, it's on the Bloomberg Terminal.
LEARN MORE