Catalan Leader Says Madrid Denied Him Deal Needed to Call Vote
Rodrigo Orihuela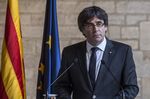 Catalan President Carles Puigdemont said he considered calling a snap regional election on Thursday, but he didn't get the guarantees he'd sought from officials in Madrid.
Puigdemont said in a televised statement he'd wanted Prime Minister Mariano Rajoy to signal that the election could be held under normal conditions. Rajoy is pushing ahead with legislation in the Senate to seize control of the Catalan administration and oust the president.
Read more: Chaos in Catalonia as Separatists Rebel Against Their President
Before it's here, it's on the Bloomberg Terminal.
LEARN MORE