Here's What CEOs Are Saying About Amazon's Plans for Domination
By
Earnings calls prompt questions on impact of e-commerce giant

'We were Amazon before it was cool,' McKesson CFO says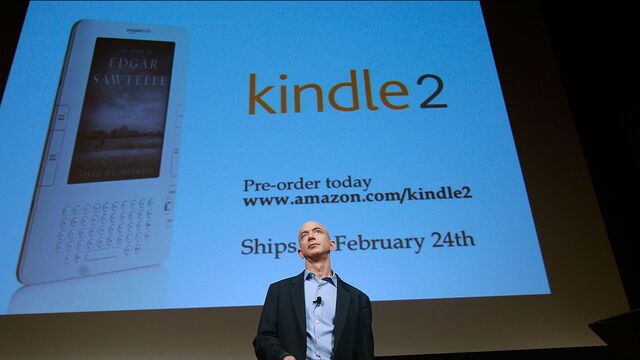 Questions about the effects of Amazon.com Inc. on a company's earnings are now inevitable on quarterly earnings calls -- regardless of the industry under discussion. 
Real estate investors want to know how developers are positioning to lure the online behemoth's planned second headquarters. Drugstores and pharmacy-benefits managers see Amazon as either a natural collaborator, a non-threat or, in one case, a copycat. Even amusement park operators have felt the need to address the 800-pound gorilla in the room. 
The following comments were collected by Bloomberg from earnings calls and industry summits that have occurred since Oct. 24.
James Beer, chief financial officer, McKesson Corp., the world's largest drug distributor:
"We were Amazon before it was cool to be Amazon." (Oct. 26)
Jim-Reid Anderson, chief executive officer, Six Flags Entertainment Corp.:
"Understand that our team is deeply committed to our long-term strategy of building lasting memories for our guests and value for our shareholders. With our Amazon-proof business, strong recurring revenue, high-margin, solid growth opportunities and attractive growing dividends, I know of no better place to invest." (Oct. 25)
Christopher Bischoff, senior investment director, Kinnevik AB, a Stockholm-based technology-investment company:
"Amazon is a big player, so anywhere they move in, it will have an impact probably. In Sweden, the online penetration is also such that it would probably have an impact. I haven't thought about them. I am not trying to quantify the risk of it, but I see that there would probably be an impact." (Oct. 26)
George Rollo Fairweather, CFO, Walgreens Boots Alliance Inc.:
"The position of our network ... allows us to have a lower-cost last mail and give customers the flexibility of being able to receive the prescriptions in their pharmacy and potentially at home. So, of course we're looking at that option. But really I think that's not a response to Amazon; it's a response to the customer opportunity we have." (Oct. 25)
Timothy Wentworth, CEO, Express Scripts Holding Co.:
"As I look at the possibility of disrupters such as, you mentioned Amazon in the cash space, I think there absolutely is a population there that deserves good service. We think we're doing a great job through our InsideRx initiative, but we certainly see that as something where if they wanted to move into a space, we could be a very natural collaborator." (Oct. 25)
William Hankowsky, CEO, Liberty Property Trust:
"We're excited to be able to offer very viable options for Amazon, which already happens to be one of our largest tenants. One site is the Navy Yard in Philadelphia and the other one is in southern New Jersey, but both are in the Philadelphia metropolitan area." (Oct. 24)
Johnny Hendrix, chief operating officer, Weingarten Realty Investors:
"All of the supermarkets are responding and are looking for some form of a click station or some way to provide services to customers that would be easier for them. Whether or not that's been real successful or not, I don't know. And now Amazon is out in the market, looking for locations where they would just have pickups for grocery and for other goods. We're beginning to see the start of it, but at this point, it hasn't been huge. We have seen some of the other retailers looking for areas where they can expand their customer pickup stations and things like that. But so far, it's been relatively small." (Oct. 25)
Brett Ponton, CEO, Monro Inc., an automotive-repair company:
"Switching gears and talking a little about Amazon. Again, first of all, I feel like our category, automotive services in the aftermarket, is well-insulated in this category relative to others because of the reasons I mentioned earlier. We're in the need business." (Oct. 24)
Before it's here, it's on the Bloomberg Terminal.
LEARN MORE