U.S. Shields Wall Street From MiFID Threat to Research Model
By and
SEC will grant no-action relief for 30 months to finance firms

Brokerages risked violating SEC rules by charging for research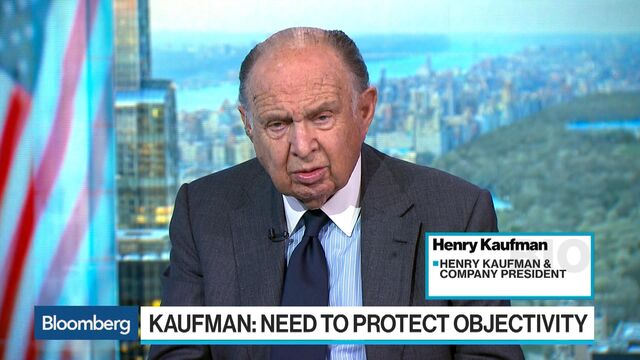 The U.S. Securities and Exchange Commission will blunt the impact of new European financial rules on Wall Street after American brokerages warned that the changes would threaten their investment research businesses.
In a statement Thursday, the SEC formally assured the brokerage industry that for 30 months it won't take action against firms that break out the cost of market analysis for clients subject to European Union rules taking effect in January. The EU will require that brokers charge separately for research, creating a conflict with U.S. regulations.
"Today's no-action relief was designed with input from a range of market participants to reduce confusion and operational difficulties that might arise in the transition to MiFID II's research provisions," SEC Chairman Jay Clayton said in the agency's statement. "These steps should preserve investor access to research in the near term, during which the commission can assess the need for any further action."
At issue is Europe's coming ban of a practice that has been routine at global banks for decades: Issuing fund managers one bill for everything from executing trades to analyzing stocks and bonds. Europe's goal is to give investors more transparency into how much they pay for specific services, while incentivizing brokers to produce higher-quality research.
How MiFID II Puts a Price on Investment Research: QuickTake Q&A
"We welcome the decision of the staff of the U.S. Securities and Exchange Commission to simultaneously agree to relief for U.S. brokers supplying research to EU firms," Valdis Dombrovskis, the EU's financial-services policy chief said in a statement Thursday. "With the issued guidance EU firms will have greater clarity on how to deal with non-EU brokers that provide research."
The decision represents a major victory for U.S. brokerages scrambling to prepare for the EU's revised Markets in Financial Instruments Directive, or MiFID II. The firms said that they were concerned that selling research to European clients could have forced them to register as investment advisers, adding costs and leading to stricter SEC oversight.
While Wall Street celebrates, some U.S. investors were disappointed. U.S. pension funds had wanted the SEC to follow Europe's lead in unbundling brokerages' research and trade-execution services.
Kara Stein, the only Democratic commissioner on the SEC, faulted the agency for not providing investors more visibility into what they pay for analysis. She also urged the SEC to consider working on a formal rule that reflects the principle that "transparency and disclosure are vital to our capital markets."
The Wall Street reprieve "merely kicks the can down the road," Stein said in a statement. "This inaction may be costly to investors and advantage some market participants over others."
Intense Lobbying
The SEC plans to seek public comment on the impact of the new EU rules. The temporary relief will give agency staff time to monitor how businesses practices around research are evolving after the rules take effect, the SEC said.
Financial-industry trade groups have spent months lobbying the SEC for help in dealing with MiFID II. The relief announced on Thursday largely reflects the wishes of the Securities Industry and Financial Markets Association, which represents brokers and asset managers.
The SEC said that money managers complying with the new rules on separate payments will still be able to use client money to pay for brokerage services and research in the U.S.
Mutual fund companies also can continue to aggregate the trades they make across their various investment funds while complying with the EU research requirements, the SEC said. The Investment Company Institute had been asking for that relief.
The reprieves came in the form of no-action letters from SEC staff. The notices amount to regulatory get-out-of-jail-free cards that inform firms that the agency won't sue them for violating certain regulations.
Job Losses
McKinsey & Co. estimated in a June report that MiFID II could result in hundreds of job cuts and slice firms' equity research revenue by 30 percent over the next three years. In a worst-case scenario, the consulting firm said, it could fall by 50 percent.
Investor advocates said the SEC missed an opportunity to bring to American markets what is happening in Europe: a system where investors can easily buy research from one brokerage while paying another to execute trades.
The SEC "went out of its way to make things worse for U.S. retirees and education savers, in an effort to help a few Wall Street banks," said Tyler Gellasch, who runs the Healthy Markets Association, whose members include the California Public Employees' Retirement System and Janus Henderson Group Plc. The reprieve "has empowered some banks to force bundling of commissions -- even though that means higher costs and less transparency for investors."
Before it's here, it's on the Bloomberg Terminal.
LEARN MORE