Debt Rising Sends South Africa's Rand Tumbling, Stocks to Record
By , , and
Yields on benchmark government bonds climb to 16-month high

Rand-hedge shares jump as banks, retailers fall second day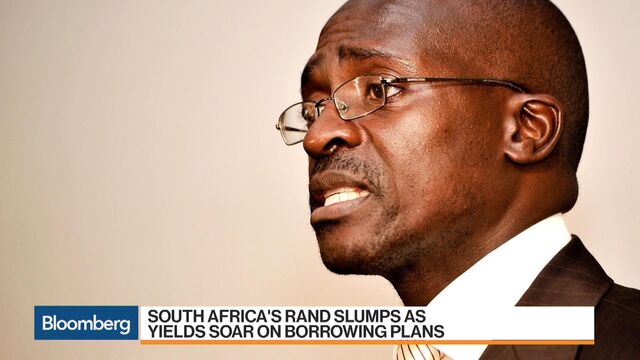 The rand and South African bonds extended declines as foreign investors dumped the country's notes in the wake of government forecasts for higher public debt and wider budget deficits in the next three years. Stocks rose to a record as gains for rand hedges offset drops for banks and retailers.
The nation's currency extended its longest losing streak in a month, while the yield on benchmark 10-year notes rose to the highest in 16 months. Offshore investors offloaded 5.13 billion rand ($360 million) of South African bonds on Wednesday, the most in six years, according to data from the Johannesburg Stock Exchange.

The deteriorating debt trajectory threatens to trigger a downgrade of the country's local-currency debt rating to junk by S&P Global Ratings and Moody's Investors Service, which could spur massive capital outflows at a time when policy tightening in developed nations may curb demand for emerging-market assets. South Africa's yields could rise as much as 180 basis points, according to the government's worst-case scenario.
"Technocrats painted a realistic and precarious state of public finances, but said they can't do anything," John Cairns, a currency strategist at Rand Merchant Bank in Johannesburg, said in a note. "The ball shifts to political heads to make the tough decisions that will either take the economy in the same route as Brazil or through a speed bump and back into life. The budget is credit-rating negative, with the probability of a downgrade to sub-investment grade before year-end being higher than before."
Junk Rating
S&P and Fitch Ratings Ltd. stripped South Africa of its investment-grade foreign-currency assessment in April, citing concerns about policy uncertainty and lackluster growth, just days after Malusi Gigaba replaced Pravin Gordhan as finance minister.
The yield on benchmark government rand bonds due December 2026 climbed 21 basis points on Thursday to 9.37 percent after jumping 31 points in the previous session. Among regional emerging-market peers, only Turkey has a higher yield. The rand fell 0.9 percent to 14.1791 per dollar, the weakest level since November, after Wednesday's 2 percent slump.
The premium investors demand to hold the country's dollar bonds due 2026 widened 20 basis points since Wednesday to 284, while the cost of insuring the debt for five years using credit-default swaps jumped 14 basis points to 189, the highest in emerging markets after Argentina.
Foreign investors own 41 percent of South Africa's 1.97 trillion rand ($139 billion) of local-currency bonds. Inflows into the market have surged since 2011, when the country's debt was included in Citigroup Inc.'s World Government Bond Index, which is tracked by investors overseeing more than $2 trillion. If the country loses its investment rating on its local-currency bonds, it would be excluded from the WGBI, leading to as much as $14 billion of outflows, according to JPMorgan Chase & Co.
The benchmark FTSE/JSE Africa All Share Index climbed 0.6 percent to a record. Exporters, companies with significant foreign operations and those with listings on developed-market exchanges benefit from rand weakness.

The main index is "breaking new highs for all the wrong reasons," Rob Pietropaolo, a trader at Unum Capital, said by phone from Johannesburg. Gains in the index are "a symptom of the market -- a weak rand really supports the biggest stocks in our market. You're going to see the commodities run, they really do get a lot of support from a weaker rand."
Here are some of the main stock moves:
FTSE/JSE Africa Industrial Metals Index +3.3%
FTSE/JSE Africa Mining Index +3.1%

Impala Platinum Holdings Ltd. +9.3%; Lonmin Plc + 8.4%; Harmony Gold Mining Co. Ltd. +5.5%

Naspers Ltd., +1.1%, contributes most index points to benchmark's gain, rises to new record

British American Tobacco +2.7%; Richemont SA +1.3%; Mondi Ltd. +1.7% are among other stocks that benefit from rand weakness

Bank-stock index tumbles second day, drops 2.3%; Standard Bank Group Ltd. -2.7%; Nedbank Group Ltd -2.3%
Before it's here, it's on the Bloomberg Terminal.
LEARN MORE