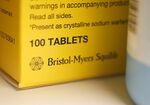 Whatever Bristol-Myers Squibb & Co. shareholders wanted from the company's third-quarter earnings call Thursday morning, they didn't get it. The firm's shares fell more than 4 percent even after it reported sales that beat analyst expectations.
That could be because, on the earnings call, executives avoided giving details of a trial of a combination of two of the company's top cancer drugs, Opdivo and Yervoy, in treating lung cancer. Billions of dollars in market value hang on the outcome of this trial, due some time in the next year. Bristol is basically a one-trial pony, and investors have little idea of what to expect. 

Opdivo sales are recovering slowly from a rough start to the year. But modest recovery is not what Bristol needs for a drug expected to generate much of its future sales and profit growth. 

The company faces serious competition in previously treated lung cancer patients in the U.S. from Roche Holding AG's rival medicine and Merck & Co. Inc.'s more broadly approved Keytruda. Growth in Bristol's most important market has slowed down as a result. 

That heaps pressure on the company's combo trial in newly diagnosed lung-cancer patients, which should reveal final data next year. Without a success, Bristol may be confined to smaller or more competitive markets for some time to come. That is a lot to put on one trial, especially when a similar drug combination from AstraZeneca PLC failed earlier this year. The success of Merck's combination of Keytruda and an older chemotherapy in newly diagnosed lung cancer also sets a high bar.
Bristol has taken steps to hedge its bets; the trial is large and has multiple arms testing its approach in a variety of different patient groups. That reduces the risk of an outright failure. However, anything but a conclusive success may risk confining Opdvio and Yervoy to a niche group of lung-cancer patients and increases the risk doctors will prefer Merck's approach.
That likely won't be enough to justify Bristol's premium valuation, which is also supported by the belief that someone like Pfizer Inc. might step in to buy the company. A trial failure may reduce Bristol's M&A attractiveness, adding to the potential downside of a bad result. 

If the trial goes well, there's plenty of upside. But the chance of a negative or ambiguous result is high enough that Bristol remains a very risky bet. 
Before it's here, it's on the Bloomberg Terminal.
LEARN MORE