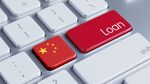 Houses are for living in, not for speculation, Chinese President Xi Jinping said last week. The trouble is, fueling this speculation has been a surge in consumer lending, not only by banks but also by fintech firms such as recently listed Qudian Inc.
China's largest lenders are due to report third-quarter numbers this week and it's safe to say concerns over nonperforming loans have taken a backseat.
Thanks to improved earnings and corporate debt that's souring at a slower rate, Chinese bank shares have rallied this year. Attractive dividend yields at the big four traded in Hong Kong -- China Construction Bank Corp., Industrial & Commercial Bank of China Ltd., Agricultural Bank of China Ltd. and Bank of China Ltd. -- have proved a magnet for mainland investors via the Shanghai and Shenzhen stock connect links.

What investors may be ignoring at their peril, however, is the spike in household advances. Consisting of mortgages, credit-card debt and auto loans, consumer lending as a share of the total is relatively low. Only 400 million Chinese had personal loans in 2016, or about 29 percent of the population. The ratio in the U.S. is about 82 percent, according to Bloomberg Intelligence. But it's been growing fast and even People's Bank of China Governor Zhou Xiaochuan is worried. China's household debt-to-GDP ratio reached 47 percent in the first half, according to a recent Citigroup Inc. report.

The rise is capturing investors' imagination. Online lender Qudian raised $900 million earlier this month in North America's fourth-largest IPO this year, while personal finance portal 51credit.com is reportedly planning a new share sale in Hong Kong.
A closer look shows it's the mid-tier banks, rather than the big four, that are mainly catering to moms and pops. China Merchants Bank Co., China Citic Bank Corp. and China Minsheng Banking Corp. increased mortgage lending by between 45.8 percent and 158.8 percent in 2016, according to Bloomberg Intelligence's Francis Chan. Of the three, China Merchants is in the strongest position thanks to its robust capital ratio. China Citic and Minsheng Banking rely more on the interbank market than deposits for funding.
What's more, the true amount of real estate debt may be understated, with some data signaling people are borrowing even for down payments. According to Citigroup, credit-card installments are sometimes being funneled into monthly mortgage bills.
To be fair, household loans are less risky than corporate debt; individuals obviously aren't keen to default and lose their nest egg. But millennials are less wary of leverage than their parents' generation and when any kind of borrowing grows too fast, alarm bells should ring. Especially when it's in real estate, the industry in Xi's sights.
Before it's here, it's on the Bloomberg Terminal.
LEARN MORE