business
China's Xi Promotes No Clear Heir, Opening Door to Stay in Power For Decades
By and
Five new Standing Committee members too old for succession

Xi has amassed enough power to rule China for decades more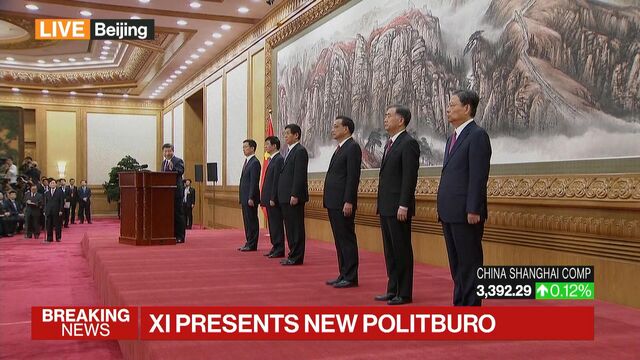 Chinese President Xi Jinping unveiled a new leadership line-up that didn't include a clear potential heir, breaking with a quarter-century-old succession system and raising the chances that he might seek to stay in office beyond 2022.
Key Takeaways:
* Although Xi appointed no clear heir on the Standing Committee, three officials on the wider 25-member Politburo are young enough to succeed him and could be promoted at any time.
* Xi's main economic adviser and top diplomat were promoted to the Politburo, showing that those portfolios will take on greater importance in his second term. 
* The Politburo and its Standing Committee are stacked with Xi's allies, paving the way for smoother policy implementation.

"Forty years of reform and opening up has made it possible for our people to lead decent, even comfortable lives," Xi said in remarks to reporters in Beijing. "It's my conviction that the great rejuvenation of the Chinese nation will become a reality."
The new lineup -- coupled with revisions to the party charter that elevated Xi's status -- lays the groundwork for him to influence the world's second-biggest economy for decades to come. Last week he outlined a vision to turn China into a leading global power by 2050, with a thriving middle class, strong military and clean environment.
Reaction in China's financial markets was muted, with the benchmark Shanghai Composite Index closing 0.3 percent higher, while the yuan was down 0.1 percent against the dollar at 4:10 p.m. local time. Sovereign bonds slumped, with the 10-year yield climbing to 3.79 percent, its highest in almost three years.

'Undisputed Leader'
During his first term, Xi looked to boost China's global clout with an Asia-to-Europe infrastructure initiative, and has reassured the world that his nation wouldn't seek hegemony as it grows more powerful. He has also sought to avoid a conflict over North Korea with U.S. President Donald Trump, who is scheduled to visit China next month.
"Xi's strength also means he does not have to accept a designated successor from his predecessors," said Dali Yang, a political scientist with the University of Chicago. "Now that he is the undisputed leader, the next five years should be calmer than the last five."
All five men appointed to join Xi and Premier Li Keqiang on the Politburo Standing Committee will be too old to rule for a decade after Xi finishes his second term. Those promoted were Xi chief of staff Li Zhanshu, 67; Vice Premier Wang Yang, 62; party theorist Wang Huning, 62; new anti-graft chief Zhao Leji, 60; and Shanghai party secretary Han Zheng, 63.
The Politburo featured three younger officials who could potentially succeed Xi. They included Chen Miner, 57, Chongqing party chief and former Xi aide; Ding Xuexiang, 55, who appears in line to become Xi's new chief of staff; and Hu Chunhua, 54, Guangdong party chief and the protege of Xi's predecessor.
The group also included Liu He, one of Xi's closest financial and economic advisers, and Yang Jiechi, a former foreign minister who becomes the first top diplomat on the Politburo since 1992. Two generals were added to the Politburo, and the military's top body shrunk to seven from 11 members, with Xi as its head.
Read More: Eight ways Xi could change China's economy
The group of leaders he announced on Wednesday raises questions about the future of a succession system that has underpinned China's recent power transfers.
Established in 1992 as an aging Deng Xiaoping sought to ensure stability following the bloody Tiananmen Square crackdown, the framework calls for party chiefs to hand over power after two, five-year terms, and identify a successor by the halfway point -- where Xi is now. It also set an unwritten retirement age of 68.
The addition of Hu Jintao to the Standing Committee in 1992 put him in line to succeed Jiang Zemin a decade later, establishing the two-term succession system. The elevation of Xi at the midpoint of Hu's tenure in 2007 similar paved the way for him to take power in 2012.
While Xi could still promote a successor at any point, Wednesday's announcement signaled a willingness to depart from the norms established by Deng and return China to a personality-driven model that allocates him even greater authority. On Tuesday, the party approved a revised charter that put Xi's contributions on par with those of Mao Zedong and Deng, while declaring him the party's "core" leader indefinitely.
Joseph Fewsmith, a political science professor at Boston University who has studied China's elite politics for more than 30 years, said that Xi is likely to serve at least three terms.
"Xi Jinping will dominate China's politics as nobody did for a long time," he said. "This is a great centralization of power in one man, and we'll get the most centralized power structure in China in three decades."
(
Updates with Xi comment in third paragraph.
)
Before it's here, it's on the Bloomberg Terminal.
LEARN MORE