Viacom Directors Get Investors' Redstone Pay Claims Tossed
By
Judge concludes 2016 accord covers compensation complaints

Board accused of wasting millions on Redstone bonuses, pay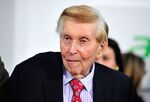 Viacom Inc. directors don't have to face investors' claims that they wrongfully overpaid company founder Sumner Redstone by $15 million after the billionaire's mental capacity declined.
A 2016 settlement of a dispute over Redstone's $40 billion media empire covered shareholders' complaints about the former CEO's compensation packages in a two-year period starting in 2014, Delaware Chancery Court Judge Andre Bouchard said Tuesday.
The terms of the accord, which led to the ouster of Viacom's former Chief Executive Philippe Dauman, "plainly encompass and bar litigation of the fiduciary duty and unjust enrichment claims asserted in the complaint here," Bouchard said in the 14-page ruling.
Jeremy Zweig, a Viacom spokesman, said he couldn't immediately comment on Bouchard's ruling.
Redstone's mental health was at the center of a months-long fight last year over the media conglomerate, which includes MTV and Comedy Central. The dispute pitted the billionaire against his granddaughter and old friends. The settlement cleared the way for Shari Redstone, the founder's daughter, to take a more prominent role on the company's board after Dauman's departure.
Viacom has introduced new board members and changed much of its senior management in the year since Dauman stepped down and Redstone agreed to give up his spot as a director. Under CEO Bob Bakish, the company has focused on its main networks and developed new programming. Viacom is on pace for its first year of revenue growth since 2011, although the shares are down almost 28 percent this year.
Asleep at Switch
In the Delaware case, Viacom investors argued directors were asleep at the switch when they signed off on Redstone's 2014 and 2015 compensation packages, knowing the billionaire had lost the power to speak and had stopped attending board meetings in person. They questioned whether Redstone had the mental capacity to make important business decisions such as removing Dauman and ousting directors.
Viacom's lawyers countered that Redstone's employment contract allowed directors to compensate him for access to his entertainment-industry contacts and past service.
Some investors dropped Delaware lawsuits earlier this month in which they accused Viacom board members of improperly allowing Redstone to stay on the company's board even though his health had deteriorated. Redstone was given a non-voting spot on Viacom's board, and the billionaire relinquished authority over his controlling stake, making the suits moot.
There is still litigation in Los Angeles, where Redstone is suing two former companions, claiming they isolated him from his family while they looted his bank accounts. The two women, Manuela Herzer and Sydney Holland, sued Shari Redstone and other members of her family in New York over the billionaire's promises to take care of them.
A New York judge, in a ruling posted Tuesday, found Herzer has no right to a a $3.75 million apartment on New York City's Upper East Side that Redstone bought and promised to leave to her after his death.
The Delaware case is R.A. Feuer v. Philippe Dauman, No. 12579, Delaware Chancery Court (Wilmington). The New York case is Sumner M. Redstone v. Manuela Herzer, 159840/2016, New York State Supreme Court, New York County (Manhattan).
— With assistance by Chris Dolmetsch, and Christopher Palmeri
Before it's here, it's on the Bloomberg Terminal.
LEARN MORE