Trump's Ex-Im Nominee Called 'Untrustworthy' by Business Group
By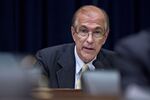 The National Association of Manufacturers renewed its call for the Senate to reject former Representative Scott Garrett's nomination to lead the Export-Import Bank in a final push to block him before a confirmation hearing next week.
In a letter Wednesday to the Senate Banking Committee, the trade group called Garrett "untrustworthy and unqualified" to lead the bank based on his previous efforts to shut it down. The Ex-Im Bank helps foreign companies buy U.S. products when private banks won't provide financing.
"His confirmation would be catastrophic to U.S. exporters, manufacturing workers and families," the letter says.
Garrett, a former Republican from New Jersey nominated by President Donald Trump for the Ex-Im job, is scheduled to testify before the Senate Banking Committee on Nov. 1, along with several nominees for the bank's board of directors.
A White House spokeswoman said despite Garrett's past positions, he would support the bank because he serves at the pleasure of Trump.
The manufacturing group, which supports Trump on issues including his proposed tax overhaul, has been campaigning against Garrett for several months. The group's chief executive officer, Jay Timmons, wrote to Garrett this week urging him to withdraw.
"Your zealous efforts to destroy the Ex-Im Bank disrespect our hardworking American manufacturing workers and their families and have been a stinging slap in the face to the communities those workers call home," Timmons wrote.
Garrett, a founding member of the conservative Freedom Caucus in the House, lost his 2016 re-election bid over his views on gay people.
— With assistance by Toluse Olorunnipa
Before it's here, it's on the Bloomberg Terminal.
LEARN MORE