Tillerson Highlights Concern About Pakistan's Political Stability
By and
Terrorist groups could undermine government, regional security

Secretary of State highlights growing U.S.-India partnership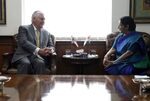 The U.S. is concerned about terror groups undermining political stability in Pakistan, Secretary of State Rex Tillerson said, issuing a call on leaders there to join in eradicating fighters that seek safe haven in the country.
"It is not in anyone's interest that the government of Pakistan be destabilized," Tillerson said at a briefing alongside Indian Foreign Minister Sushma Swaraj in New Delhi, where he visited after meetings in Afghanistan and Pakistan earlier this week. "We want to work with Pakistan in a positive way because we think this is in their interest as well."
Tillerson was visiting the region as part of the Trump administration's unveiling of a new South Asia strategy that looks to strengthen the U.S. alliance with India. It also includes a push to bring peace to Afghanistan and persuade Pakistan to do more to clamp down on terror groups.
In a speech last week in Washington, Tillerson argued for greater U.S. economic influence and military ties with India and praised an "emerging Delhi-Washington strategic partnership" as an anchor for stability.
"In the fight against terrorism, the United States continues to stand shoulder with India," Tillerson said in New Delhi Wednesday. "India and the United States continue to benefit from our strong economic bonds."
After decades of frosty ties during the Cold War, the U.S.-India relationship -- both economically and diplomatically -- has grown significantly in the last decade. India is a key U.S. ally in Asia and acts as a democratic counterweight to China's growing influence. 
India is also seeking a role as a more serious player in regional security issues, holding joint maritime exercises in the Indian Ocean with the U.S. and Japan, while Prime Minister Narendra Modi's $250 billion military modernization drive is also a huge opportunity for U.S. defense firms such as Lockheed Martin Corp.
North Korea Ties
At the briefing, Swaraj said recent attacks in Afghanistan were proof that terrorist groups continue to operate from safe havens in Pakistan. India and the U.S. agreed that Islamabad needs to take immediate steps against terror groups there, she said.
The two top diplomats also discussed North Korea. 
Swaraj was asked by a reporter about New Delhi's embassy in North Korea and India's petroleum exports to the isolated country, in the wake of Trump's threat to cut trade ties with allies that do business with Pyongyang. 
Trade between India and North Korea has fallen, she replied, and noted she had communicated to Tillerson that it was valuable to have at least one ally with a diplomatic channel open in North Korea, suggesting that India would not close its embassy there.
Before it's here, it's on the Bloomberg Terminal.
LEARN MORE