Temer Said to Turn Pragmatic After Relentless Corruption Charges
By and
President looks to draw a line under five-month long scandal

Government wants to work with Congress on micro-economic plans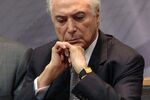 Once Brazil's lower house of Congress votes to shelve the charges against President Michel Temer, the government will look to draw a line under the five-month corruption scandal by setting out a practical agenda likely to secure legislators' approval, according to a government minister who spoke on condition of anonymity.
The following are the proposals under consideration:
The Planning Ministry is preparing measures to stimulate consumption, as the presidential palace believes pocket-book issues may improve the Temer government's standing among the public
The government and Congress will try to work on a joint micro-economic agenda including tax reform, student loans, positive credit registers. They will also work together to unlock the social housing project, Minha Casa, Minha Vida as well as the PAC infrastructure program
"The government does not have the strength to do anything it likes," said Marcos Montes, the leader of the PSD. "A vote on tax reform and environmental licensing is possible."
For Efraim Filho, the leader of the DEM party, the government has focused on pension reform to the exclusion of other important issues. "It's necessary to organize a flexible agenda that isn't just about reforms," he said
The government is also planning on launching a marketing campaign to show that despite Temer's unpopularity, the country's economic and business environment has improved considerably since he took office
"Tax reform is doable, but it could be even harder than pension reform because it affects states' coffers," said Beto Mansur, the deputy leader of the government in the lower house
— With assistance by Samy Adghirni
Before it's here, it's on the Bloomberg Terminal.
LEARN MORE