House Leaders Face State-and-Local Storm to Begin Tax Debate
By , , and
MacArthur says House shouldn't vote on budget before SALT deal

Setting vote Thursday keeps GOP on ambitious tax-bill schedule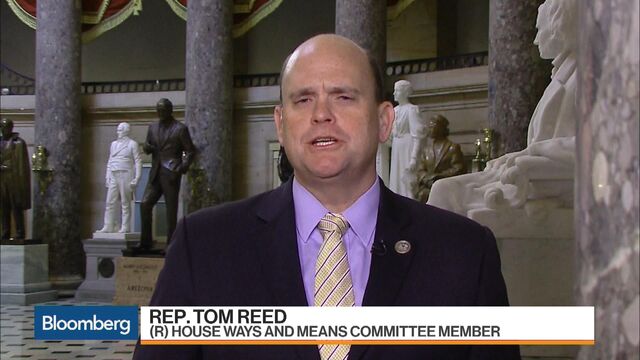 House leaders announced plans to press on with a budget vote Thursday that represents an attempt to stick to their ambitious goal of delivering tax-overhaul legislation by year's end.
In setting the vote, House Speaker Paul Ryan and his leadership team turned aside an attempt to delay it by a group of Republican lawmakers who fear their constituents would be hurt by repealing the state and local tax deduction. The budget vote may still be close, but the decision to move ahead suggests that House leaders are confident of adoption.
GOP lawmakers from high-tax states, including New York and New Jersey, are seeking to preserve the state and local tax break, at least partially. On Wednesday, two of them said they thought they had enough votes to put the budget resolution in jeopardy if they didn't get their way.
Despite the last-minute drama, House Majority Whip Steve Scalise projected confidence to reporters Wednesday evening. "It's looking good," said Scalise of Louisiana. "We're going to get this done."
But convincing disaffected moderates to go along with the budget vote Thursday is just one step. They are likely to draw a harder line on a final tax bill if their concerns are not addressed.
"This proposal will devastate my district forever," said Representative Peter King, who represents the southern shore of Long Island. "How anybody from New York and New Jersey can vote for this budget without knowing what is in the tax bill is beyond me." He and Representative Tom MacArthur of New Jersey said they thought the objectors had enough votes to threaten passage if they weren't satisfied.

Ambitious Schedule
Adopting the budget resolution, which has already passed the Senate, will put the House Ways and Means Committee on track to release the long-awaited tax bill as early as Nov. 1. The budget must be in place first to start a fast-track process that will allow the Senate to approve tax legislation with only 50 votes. Republicans control just 52 Senate seats, and they don't anticipate help from Democrats.
It's likely that the Republicans who oppose the repealing the state and local tax break -- known as the SALT deduction -- will still get a hearing for their concerns. But House leaders prefer to let the Ways and Means panel hammer out a compromise while marking up the tax bill, said a lobbyist who was briefed on the plan.
Ways and Means Chairman Kevin Brady has said previously that he's listening to members' concerns. And members of President Donald Trump's administration have likewise indicated a willingness to compromise on repealing the SALT deduction.
Harder Line
But on Wednesday evening, White House budget director Mick Mulvaney drew a harder line. "For a variety of reasons, we hope it stays in the bill,'' Mulvaney said during an appearance at Georgetown University. Repealing the tax break "brings some fairness where it wasn't before,'' he said.
The deduction tends to benefit high-income taxpayers in high-tax states the most, including New York, New Jersey, California, Oregon and Minnesota. Those states tend vote Democratic, and many conservatives say the SALT break unfairly subsidizes tax increases by state and local governments. But representatives in high-tax states argue their taxpayers tend to pay more to the federal government than they get back in spending.
Repealing the provision is estimated to raise as much as $1.3 trillion over 10 years, which would help offset the deep tax-rate cuts that Trump and Republican leaders have proposed for businesses and individuals. If the break is preserved in part, House tax writers will need to find other ways to raise revenue. Their rough framework is already $2.4 trillion in the red assuming full repeal of the deduction, according to one independent analysis.
Deficit Concerns
Already, some House conservatives were expressing reservations about supporting the Senate budget resolution, which calls for increasing the federal deficit by as much as $1.5 trillion over 10 years. Congressional leaders say economic growth resulting from their tax rewrite will help make up that gap -- and even reduce the deficit. The House's own budget resolution had allowed no deficit increase.
Those concerns appeared to evaporate by Wednesday night. "Take it to the bank. It is passing," Representative Mark Meadows, the chairman of the conservative House Freedom Caucus said.
Adopting the budget will set the stage for a whirlwind November in which Ryan and others say they want to introduce, consider and approve a tax bill in a little more than two weeks' time. As they attempt that, lobbyists of all stripes -- representing corporations, small businesses and, yes, state and local governments -- will be weighing in to defend their own favored tax breaks.
"We're about to go through class five rapids, which are the biggest rapids you can go through, and we got to make sure everyone stays in the boat and we get the boat down the river," Ryan said at a Reuters Newsmaker event Wednesday morning. "That's why this hasn't been done in 31 years."
Before it's here, it's on the Bloomberg Terminal.
LEARN MORE