Sears Brings Back Its Print Catalog
By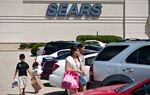 After years of seeing sales and foot traffic dwindle, Sears Holdings Corp. has a new strategy for enticing shoppers: bringing back a print catalog.
The department-store chain will publish a 120-page "wish book" this holiday season, reviving a catalog that hasn't been available since 2011. This time around, the 131-year-old retailer is going for something a little more high-tech. In addition to the print version, the publication is available in mobile and online versions.
The wish book is an attempt to capitalize on Sears's heritage. But it also underscores how much has changed since the company was the world's largest retailer. Sears has posted roughly $11 billion in red ink over the past six years, and it's closing dozens of poor-performing stores. That will leave holiday shoppers with fewer places to visit this season.

Chief Executive Officer Eddie Lampert has generated cash by offloading real estate, along with the Lands' End and Craftsman brands. The company's strategy now hinges on signing up customers to Shop Your Way, a membership program that lets them build up rewards.
"Our members told us they missed the wish book, so we had to bring it back," Kelly Cook, who runs marketing for Sears and sister chain Kmart, said in a statement.
The company's holiday catalog debuted in 1933, when it was called the Sears Christmas Book. The original edition included a battery-powered car, fruitcakes and a doll called Miss Pigtails.
Quotes from this Article
Before it's here, it's on the Bloomberg Terminal.
LEARN MORE