Putin Bets on Business to Build Ties as Top Official Visits U.S.
By and
Russian industry minister attends business forum in New York

U.S. politicians 'scared' to meet Russians, Duma deputy says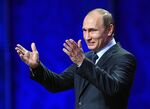 As political relations stall between Vladimir Putin and Donald Trump under the torrent of allegations of Russian meddling in the U.S. presidential elections, the Kremlin's turning to business contacts to try to build ties.
Russian Industry Minister Denis Manturov heads a group of officials and executives due to attend the U.S.-Russia Business Council's annual meeting in New York on Thursday, where discussions will focus on prospects for future relations amid FBI and congressional probes into possible links between the Kremlin and Trump campaign officials.
"Trump is a hostage of hysteria that's formed in the press, society and part of the political establishment, and clearly he can't fight it," said Anatoly Aksakov, chairman of the financial markets committee of Russia's lower house of parliament, who'll be at the meeting. "Only business, which is interested in relations with Russia, can change this."
No meetings with U.S. officials during the visit have been announced. Expanding business ties with the U.S. has also proven a hard sell. The head of the Russian Union of Industrialists and Entrepreneurs, Alexander Shokhin, was listed as a speaker at the USRBC meeting, but pulled out to attend a state council in Moscow. Boris Titov, the Kremlin's business ombudsman, who attended Trump's inauguration and said in February that he's organizing a "road show" to pitch Russian investment opportunities to U.S. companies, also won't be there. The road show may take place early next year, his spokeswoman, Ekaterina Arkhangelskaya, said.
'Anti-Russian'
While Trump and Putin have spoken three times by phone, they've met only once since the U.S. president took office in January promising to improve relations after he praised the Russian leader during the campaign. Instead, tit-for-tat retaliations over diplomats and congressional approval of tougher sanctions against Russia have further soured the mood. Trump has dismissed the controversy over alleged collusion between his campaign and Russia as "fake news", while Putin, who's also denied the claim, said last week that an "unprecedented anti-Russian campaign is underway in the U.S."
Manturov is the key speaker at the event that comes two weeks after Economy Minister Maxim Oreshkin spoke at a round table breakfast in Washington with members of the USRBC, which represents more than 100 Russian and U.S. businesses including Ford Motor Co., Boeing Co., Exxon Mobil Corp., United Co. Rusal Plc, Sberbank PJSC and VTB Bank. Russian Deputy Finance Minister Vladimir Kolychev spoke to the lobby group in Washington in April.
Aksakov said he has no plans to go to Washington because he couldn't confirm any meetings with senior politicians or officials.
'Not Afraid'
"American politicians are not ready for dialogue because they are scared. They think it is better not to meet," he said. "We have a stronger position. We're not afraid to be accused of being pro-American."
Putin appealed to business leaders to "help us restore normal political dialogue," when he met with U.S. and Russian companies at the St. Petersburg International Economic Forum in July.
On Tuesday, he disappointed some guests at Moscow's main investment forum after he broke with his tradition of taking questions from the audience and left after a brief speech.
"Russian-American business-to-business dialogue has remained active and constructive through challenging times," Dan Russell, the USRBC's president, said by email. "Most U.S. businesses active in the Russian market made initial investments decades ago and remain committed to their Russian customers, suppliers, partners and employees. Geopolitical tensions and the cycle of sanctions and counter sanctions have been primarily a deterrent for potential investors considering entry into the Russian market," he said.
The business council was "created by the two states at the time of the Cold War to stay in contact," said Alexis Rodzianko, president of the American Chamber of Commerce in Russia. "Now its primary function got a second wind."
— With assistance by Stepan Kravchenko
Before it's here, it's on the Bloomberg Terminal.
LEARN MORE