business
O'Reilly's $32 Million Settlement 'News' to Me, Murdoch Says
By and
FOX CEO says there are behaviors that are not to be tolerated

Takeover of Sky expected to be cleared next year, he says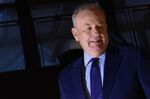 James Murdoch, chief executive officer of 21st Century Fox Inc., said he was unaware of a $32 million settlement that Bill O'Reilly is reported to have paid to end a sexual harassment lawsuit while he was a star at the company's news network.
The New York Times reported over the weekend that Fox knew of the woman's complaints when it renewed O'Reilly's contract a month after he struck the $32 million agreement in January. O'Reilly, the most recognizable face of Fox News for much of its 21 years, and the company parted ways in April.
"It's a big sprawling business," Murdoch said Wednesday in an on-stage interview at the Paley Center for Media in New York City. "The settlement wasn't a company settlement and it was news to me when we saw that number the other day."
The renewed focus on the allegations against O'Reilly comes at a sensitive time for 21st Century Fox. The U.K.'s Competition and Markets Authority is looking into issues of corporate culture as part of its review of the New York-based company's 11.7 billion-pound ($15.4 billion) bid for Sky Plc.
Murdoch said he still expected regulatory approval would come in the first half of 2018.
O'Reilly said in a statement he had been "maliciously smeared" by the New York Times report. He added that no one ever filed a complaint about his behavior with human resources or the legal department while he worked at Fox.
Ailes Departure
O'Reilly's exit from Fox was preceded by the departure Roger Ailes, who resigned in July 2016 as head of Fox News. Ailes was the subject of a lawsuit filed by a former anchor, Gretchen Carlson, who claimed she was fired for refusing his sexual advances. Ailes, who died in May, denied the allegations.
"We've made a decision that is clear and I hope sends a really strong signal to all of my colleagues, to everyone in the industry, that actually there are behaviors that are not to be tolerated," Murdoch said.
In 2012, Murdoch was criticized by U.K. regulators for his handling of phone-hacking allegations at tabloid newspaper the News of the World, while he was executive chairman of News Corp.'s News International unit.
"The pattern that has emerged time and time again is intense lack of curiosity," said Steven Barnett, a professor of communications at the University of Westminster. "The more this goes on, the more echoes there are of the questions around governance that were asked after the phone-hacking scandal."
 
Before it's here, it's on the Bloomberg Terminal.
LEARN MORE