climate-changed
NRG CEO Likes Perry's Push for Power Reform—Just Not His Plan
By and
NRG's Gutierrez wants market-based fixes that are fuel-neutral

Trump administration is working to help rescue coal plants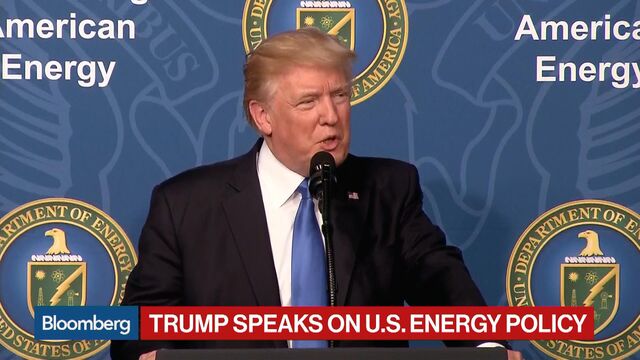 The chief of America's largest independent power producer really likes Energy Secretary Rick Perry's push to overhaul the nation's power markets.
He's just not a fan of his plan to fix them.
Specifically rewarding nuclear and coal-fired power plants, as Perry's plan would do, isn't the answer to ensuring a reliable U.S. power mix, NRG Energy Inc. Chief Executive Officer Mauricio Gutierrez said in an interview at Bloomberg's headquarters in New York. What regulators need to do is define what makes a power plant "resilient," he said, and then perhaps create a fuel-neutral, "resiliency market" in which all resources can compete to keep the lights on.
Gutierrez's remarks echo the sentiment of a lot of executives in the power business who've been fighting for changes to the nation's wholesale power markets since the shale boom led to a massive build-out of cheap, gas-fired generation. The Trump administration's push to help rescue coal and nuclear power have thrust the markets' challenges into the limelight after years of debates on the state and regional level.
Perry's plan, now being weighed by the Federal Energy Regulatory Commission, sent a strong message that "we have a problem, and FERC, you need to act," Gutierrez said Wednesday. "He threw a stink bomb. Now we all have to get out of the room and do something."
Perry had specifically asked the commission to change the way that wholesale power markets price electricity so that coal and nuclear generators are fairly compensated for their ability to stockpile 90 days' worth of supplies on-site. Hundreds of coal-fired plants and several nuclear reactors have shut in recent years as cheaper gas-fired power generators squeezed their profits.
Hundreds of Comments
A deadline for comments on the proposal this week drew hundreds of letters, largely opposition, from gas explorers, to power plant owners, to market operators, to renewable energy generators and public utilities. Most of them argued that his approach would distort markets, inhibit competition and raise consumer prices.
Read More: Even Coal Generators Are Lukewarm on Trump's Plan to Help Them
Perry said in a separate interview Wednesday that he drafted the proposal "partly to have a very open conversation, to force a debate about this issue." The energy commission will ultimately have to decide how best to balance the markets, he said.
"Nuclear and coal -- I don't think anybody argues -- were discriminated against, over the course of the last administration in particular, but I'll suggest even for a longer period," Perry said while visiting Cape Town on Wednesday. "They neglected to promote them" and to talk about why they're important, he said.
Whatever the commission comes up with needs to be fuel-neutral and markets-based, as opposed to depending on subsidies for specific power resources, Gutierrez said. "We cannot discriminate certain types of fuels," he said, describing competitive markets as "the bedrock" of industries.
NRG is in a position to know. The Princeton, New Jersey-based company runs one of the country's most diverse collections of power generators. As of an August filing, it owned one of the biggest independent fleets of natural gas-fired plants, almost 9 gigawatts of coal-fired power and nearly 5 gigawatts of renewables.
"I'm a big proponent of competitive markets," Gutierrez said. "I think this is the way we provide maximum benefits to consumers at the lowest cost."
— With assistance by Paul Burkhardt
Before it's here, it's on the Bloomberg Terminal.
LEARN MORE