Macron to Meet BlackRock, Other Funds to Lure Global Investors
By
President to call on fund chiefs to invest in French companies

France wants to sell state-held stakes in some companies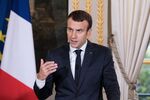 President Emmanuel Macron wants to show global fund managers that on his watch France Inc. is an appealing place for their money.
The French president has invited the heads of the world's biggest investors -- sovereign wealth funds, mutual and pension fund and assets managers, including BlackRock Inc. Chairman Larry Fink -- to the Elysee Palace Wednesday to showcase his reforms, according to an official at his office.
Macron will dine with 21 top-level executives of funds in the Winter Garden of the presidential palace, with its three giant crystal chandeliers and an 18th-century, 29-feet-long Gobelins tapestry showing "The Expulsion of Heliodorus from the Temple." 
Speaking in English, the president -- a former investment banker at Rothschild in Paris, who advised on deals including Nestle's $12 billion acquisition of a Pfizer unit in 2012 -- will urge the investors to expand and diversify their stakes in France-based companies and funds, according to an aide, who declined to be named in line with internal rules. The French president's office declined to identify the funds or their representatives.
New York-based BlackRock, whose French office confirmed that its executive will be present at the dinner, has stakes in French companies including Michelin, Renault, Airbus, PSA, Bouygues, Vinci, Eiffage, Vivendi, Sanofi, L'Oreal, STMicro, Atos, Capgemini, Orange, Publicis and Total. Other foreign funds like the one managed by Norway's Norges Bank hold stakes in companies including Total, Sanofi and L'Oreal.
'Transforming France'
Macron, France's youngest leader since Napoleon, has been in power for six months. He will likely tell the investors what he told French taxpayers in his first national television interview this month: that his "ambition isn't to reform France but to transform it."
The presidential push together with an economy showing its first real recovery since before Europe's sovereign debt crisis have opened what Finance Minister Bruno Le Maire has called a "window of opportunity" for the eurozone's second-largest economy.
Also in the mix is the opportunity presented by the U.K.'s Brexit vote, according to the French official who's participating in the presidential dinner's organization. European Union talks with the U.K. suggest negotiations may result in a "hard Brexit," the official said, adding that that shouldn't slow down Europe's and France's ambitions to "move forward."
The official said the French government has yet to decide on the company stakes the state plans to sell or the profiles of the investors it will seek. Still, at the dinner, Macron will call on the funds to consider making long-term investments in France.
Macron's Reforms
The executives of the funds are having a busy day. 
They lunched with Prime Minister Edouard Philippe on the left bank of the Seine river. They also have "working sessions" with several ministers, including Labor Minister Muriel Penicaud and Finance Minister Le Maire .
In the short time since he took office, Macron has managed to push through a broad reform of French labor, something that eluded his predecessors, allowing the country's companies more power to negotiate hours and pay and limit penalties for wrongful dismissal. The success has given the 39-year-old president a signification economic achievement to back his demands for other policy changes.
Still, the president's additional reform plans may not be as easy, some observers say.
Macron is embarking on an overhaul of France's unemployment insurance and will have to deal with its deficit-generating retirement system -- both of which may prove thorny. Two of France's biggest unions are planning protests on Nov. 16 against Macron's plans.
"The most difficult tasks lie ahead for Emmanuel Macron," said Raymond Soubie, who first started handling labor and social relations for governments in 1969. "There are risks linked to the unemployment insurance reform, which could reduce workers' rights. There is the risk linked to pensions -- the special retirement plans are in deficit and they'll have to take short-term measures. And there are political risks."
Quotes from this Article
Before it's here, it's on the Bloomberg Terminal.
LEARN MORE