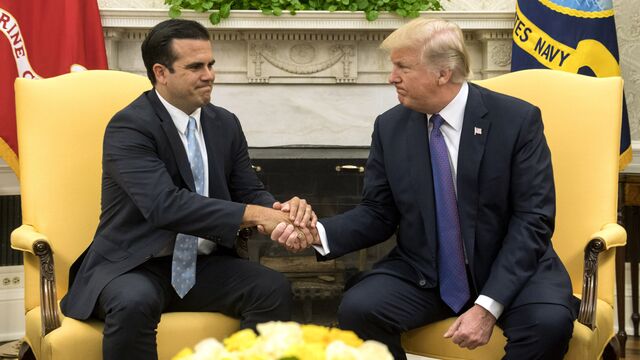 A month after Hurricane Maria devastated the island, power lines still lie slack along roads, utility poles are snapped clean in half, and most Puerto Ricans remain in the dark.
So you could understand why Cruz Maria Ramos Resto, a 50-year-old school cafeteria worker, rolled her eyes when asked if she supports the solar-driven "grid of the future"—the one that environmentalists, renewable energy developers and Puerto Rico's government have been touting since Maria laid waste to the island's power system.
"But of course!" said Resto, who lives next to an oil-burning power plant in Palo Seco. "When are you bringing it over? Let's have it, already! Let's see it!"
There's plenty of hype about rebuilding Puerto Rico's grid using solar panels, wind farms and batteries, with Tesla Inc.'s Elon Musk and Virgin Group founder Richard Branson backing the idea. Then there's the crushing reality: The U.S. territory is broke, and millions of disillusioned Puerto Ricans expect little to change in how they get their energy anytime soon.

For longer than most can remember, they've paid some of the highest energy costs in the U.S. to a notoriously unreliable utility that neglected their grid for years and runs fossil-fuel plants that may be damaging their lungs.
A spray-painted message on a concrete wall outside the Palo Seco power plant sums up their sentiment: "Turn it back on!" If island residents must choose between getting the lights on tomorrow and waiting for Musk to airdrop solar panels, they'll take Palo Seco—even as a church in town turns black from the soot.
Talking about microgrids to powerless Puerto Ricans right now "is idiotic,"Jason Grumet, president of the Bipartisan Policy Center in Washington, said during a recent forum in New York. "Give them diesel generators."
Sure, everyone would like to see Puerto Rico rebuild an efficient and green power system, said Richard Donner, a credit analyst covering Puerto Rico's government-run utility for Moody's Investors Service. "But the question is how do you get from here to there? It's a matter of money." And time, both of which Puerto Rico's leaders have in short supply.

What can the government realistically offer by, say, December? More back-up diesel generators and restoration of the same aging power plants the island has been relying on for decades, according to Thomas Lewis, the U.S. regional president of Morristown, New Jersey-based contractor Louis Berger.
"You can't deploy and build the systems that Tesla is talking about and these very sophisticated microgrids between now and December and have them fully operational," said Lewis, whose company has contracts with the U.S. Army Corps of Engineers to respond to disasters. It has delivered about 300 back-up generators to the island.
Restoring power by December is key for Puerto Rico's leaders who, along with the Trump administration, are facing a tirade of criticism as days without power turn into weeks, and weeks into months. Ricardo Rossello, the commonwealth's 38-year-old governor, has vowed to get most lights back on by Christmas.

But he also remains set on an energy overhaul that would convert the island's backward energy infrastructure into one fueled by solar panels and Musk's batteries. Rossello, who has a Ph.D. in biomedical engineering from the University of Michigan, engaged Musk on Twitter about it in the middle of the initial response to the hurricane.
"Do you want to show the world the power and scalability of your #TeslaTechnologies?" Rossello tweeted. "PR could be that flagship project." The tweet and subsequent response created a whirlwind of attention and led to a more probing conversation with Musk, few details of which have been disclosed.
Realistically such a feat would be, as Lewis put it, "very complicated." With the territory drowning in $74 billion of debt, it'll probably need federal government funding, community drives, charitable donations from corporations on the mainland, and investments from private-equity firms. On Tuesday, the Senate sent President Donald Trump a $36.5 billion hurricane relief bill that gives Puerto Rico access to $4.9 billion in low-interest loans.
Community development block grants could help, Lewis said. So could the insurance industry.
Rossello's government is aware that building the grid of the future costs money. That's where the Federal Emergency Management Agency comes in, said Manuel Laboy, Puerto Rico's economic development and commerce secretary. He said FEMA has funding programs the island can tap to pay for new energy infrastructure.

FEMA's chief, William "Brock" Long, has said in no uncertain terms that such an arrangement would be unlikely and that his agency's primary role is to bring infrastructure back to its original state.
But that state, as Laboy noted, is obsolete. "It has not been kept up to current codes and standards," he said, making the case to use FEMA funds for improvements. If the agency gives Puerto Rico the flexibility, "There is a fair chance that we can pull this off."
Laboy said the government is already considering building a series of micro-grids and regional systems. On Tuesday, Tesla tweeted that the "first of many" solar and storage projects was already coming online at Puerto Rico's Hospital del Nino. In addition to Tesla, Laboy said the island is considering bringing in companies such as Sonnen GmbH, Arensis Corp. and Sunnova Energy Corp. It would probably hold some sort of competitive bidding process, he said. 
Even if Puerto Rico could find the money to pay these solar installers, there's the question of who would run it.
Rossello has vowed to reform the island's bankrupt Puerto Rico Electric Power Authority. But just this week, the utility became entangled in yet another high-profile mess after awarding one of its biggest restoration contracts thus far—worth $300 million—to a little-known company called Whitefish Energy. Environmentalists are already raising questions about the firm, which is based in Whitefish, Montana, the same small town that U.S. Interior Secretary Ryan Zinke also calls home.

(For his part, the authority's chief executive, Ricardo Ramos, insisted Tuesday that nothing was amiss in the deal. He said the utility evaluated "five or six" proposals, and Whitefish's was attractive because they promised to mobilize workers quickly and didn't require an upfront payment.)
Marco Antonio Rigau, president of the city council in Puerto Rico's capital, San Juan, suggested splitting Prepa into regional utilities that would link up to help each other during outages. Laboy said the government is considering all options.
One scenario would have private companies running the island's power generation while a public utility maintains the power lines. But the island's dealings with the private sector have had their own problems. Shortly before the hurricane, protests broke out over waste from AES Corp.'s coal-fired power plant in Puerto Rico.
Near a landfill that AES uses, someone has spray-painted a skull and a question: "Who is killing us?"
"It's not a coincidence that Puerto Rico has the highest asthma rate in the nation," said Judith Enck, a former administrator with the Environmental Protection Agency whose region covered Puerto Rico. The average oil-fueled power plant there is about 60 years old, she said.
AES spokeswoman Amy Ackerman said by phone Tuesday that the Arlington, Virginia-based company uses landfills that meet federal and territory environmental regulations for its coal waste. Emissions from the plant in Puerto Rico are six times lower than federal limits because of "clean coal" technology, she said.

Both the coal complex and a solar plant AES runs on the island remain shut after the storm knocked out transmission lines. Once those power lines are repaired, the coal plant will restart. Waste shipments to the landfill would probably resume sometime after, Ackerman said.
While AES doesn't have an official comment on the push for micro-grids and renewables in Puerto Rico, Ackerman noted that its plant is the lowest-cost power generator on the island by far. She also said the company as a whole has been shifting more toward natural gas and renewables for future growth.
Whatever replaces Puerto Rico's wrecked power system, Enck said, one thing is clear: It's not worth spending hundreds of millions of dollars to resurrect the island's "same old rickety, unreliable, dirty electrical grid."
— With assistance by Dana Hull, and Brian Eckhouse
Before it's here, it's on the Bloomberg Terminal.
LEARN MORE