Davis Backtracks on Suggestion Brexit Vote May Come After Split
By
Davis's office says government wants final accord in good time

Says minister was answering 'hypothetical' question on vote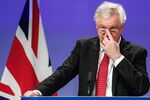 Follow @Brexit for all the latest news, and sign up to our daily Brexit Bulletin newsletter.
U.K. Brexit Secretary David Davis was forced to backtrack after suggesting that lawmakers may not be able to vote on the final terms of the country's divorce from the European Union before the split happens.
Just a few hours after Davis raised the possibility in a parliamentary hearing, his office issued a statement saying the government is still working hard to get a deal with the EU "in good time" so lawmakers in London can vote on it before the U.K. leaves the bloc in March 2019. The move came after a succession of lawmakers raised concerns that ministers could sideline Parliament after promising both houses a say on the final deal.
On Wednesday morning, Davis predicted negotiations will go to the wire in a high-pressure game of brinkmanship that could deny Parliament the chance to vote on a final deal before it is too late. In a clarification issued during the afternoon, Davis's office said he had been asked about "hypothetical scenarios." 
"We are working to reach an agreement on the final deal in good time before we leave the EU in March 2019," the Brexit department said in an emailed statement. "Once the deal is agreed we will meet our long-standing commitment to a vote in both houses and we expect and intend this to be before the vote in the European Parliament and therefore before we leave."
The opposition Labour Party's former business spokesman, Chuka Umunna, was among lawmakers who raised concerns with the speaker of the House of Commons about Davis's suggestion. Ministers had already committed to giving Parliament a "meaningful vote" on the Brexit deal, Umunna said. "It seems to me that this house, on behalf of the people we represent, cannot take back control unless we have that vote," Umunna said in Parliament.
EU chief negotiator Michel Barnier wants the deal to be struck by October 2018 "and that is our aim as well," the department said. Prime Minister Theresa May still has full confidence in Davis as Brexit secretary, her spokeswoman Alison Donnelly told reporters in London.
— With assistance by Robert Hutton
Before it's here, it's on the Bloomberg Terminal.
LEARN MORE