Christie Says He Underestimated Difficulty of Post-Sandy Rebuild
By
Governor says he chose the wrong contractor and wasted a year

Welcoming Obama to the state was his best decision, he says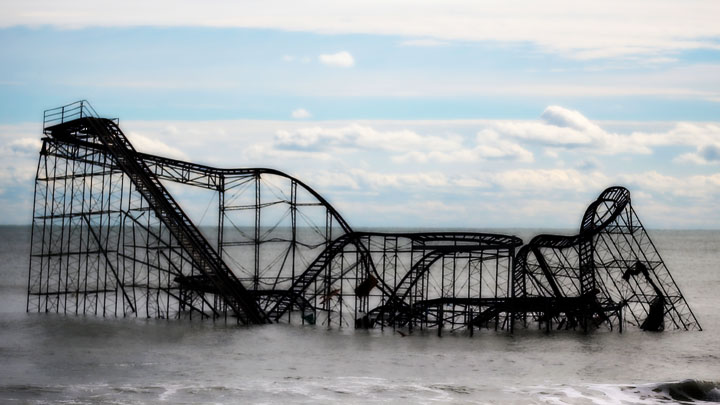 New Jersey Governor Chris Christie said his biggest mistake in the aftermath of Superstorm Sandy was underestimating the time and complexity involved in rebuilding 365,000 damaged homes.
Political considerations in choosing the company to oversee the repairs led Christie to go with the lowest bid, even though a more costly rival appeared to be more competent, he said Wednesday during a Bloomberg Live conference marking the five-year anniversary of the storm. He dismissed the first company after a year and hired the other firm, he said.

"My instinct was that bid's too low, but if you take the higher bid, everyone says he took the higher bid, the fix is in," said Christie, 55, whose term ends in January. "It was the single biggest mistake we made in Sandy recovery."
Christie said today's political climate is so polarized that it could interfere with efforts to recover from a disaster such as Sandy, which caused $32 billion of damage to the state, and about $70 billion, including New York and Connecticut. 
About 1,400 families are still not back in their homes, Christie said Wednesday during an interview on Bloomberg TV.
"Until those families are home, I'm not going to be satisfied," he said.
Victory Lap
Still, Christie said he was pleased with his administration's response to the storm, and that New Jersey is stronger now than it was when Sandy struck. Jeff Tittel, director of the New Jersey Sierra Club, an environmental group, disputed Christie's comments.
"The Christie Administration has done nothing to curb over-development and sprawl that make residents vulnerable to flooding and storm surges; they have also failed to address climate change that makes storms more severe," Tittel said in a statement. "Christie is like the captain of the Titanic taking a victory lap of the ship before it sinks."
Christie said his successor will have to finish the resilience projects he started. Those include protective dunes along the shore, as well as construction of separate electric grids for New Jersey Transit, the state's trauma hospitals and its wastewater-treatment plants, which were forced to discharge untreated sewage waste into rivers after Sandy.
Hurricane Maria
The governor blamed Carmen Yulin Cruz Soto, the mayor of San Juan, Puerto Rico, for getting involved in a fight with President Donald Trump over the pace of disaster relief after Hurricane Maria. Although Trump characterized the mayor's comments as playing politics, she characterized them as a plea for help.  
"She's an executive, too, she's the mayor," Christie said. "If we don't rise above politics, if we don't focus on the job at hand, people are going to die in the worse-case scenario and in the best case scenario their lives are going to be put on hold indefinitely."
Christie contrasted her statements with his own actions in welcoming then-Democratic President Barack Obama to New Jersey days after Sandy hit, and eight days before the 2012 presidential election, even though he was one of Republican candidate Mitt Romney's most active surrogate campaigners.
"I heard more about that moment from Republican primary voters than I heard about anything else," Christie said, recalling his failed run for the Republican presidential nomination in 2016. Obama gave him his personal phone number, and set a rule that any phone call from the Christie administration to the federal government had to be returned within two hours, the governor said.
"It was the single biggest act of loyalty to my state that I ever performed," Christie said, recalling that he also told Obama, "'By the way, just so that we're clear, you know I'm not voting for you next Tuesday."'
Before it's here, it's on the Bloomberg Terminal.
LEARN MORE