Trump, House Tax Chief Send Mixed Signals on 401(k) Break
By , , and
President says certain elements of tax bill aren't negotiable

Chief House tax writer says GOP exploring retirement ideas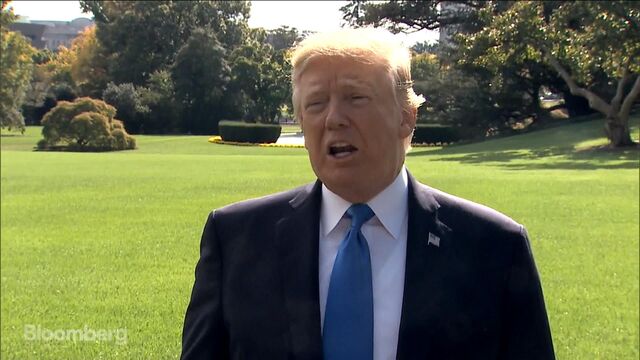 President Donald Trump repeated his desire to keep tax breaks for workers' 401(k) contributions Wednesday -- just hours after the chief tax writer in the House said his panel was exploring ways to change retirement savings in legislation he plans to release next week.
Trump told reporters that preserving the 401(k) tax-deferred retirement plans is very important to him, and that he wanted to make that clear. Earlier in the week he had said on Twitter that there would be "NO change to your 401(k)," calling the plans a "great and popular" tax break for the middle class.
"I wanted to end that quickly," Trump said Wednesday of discussions on limiting the tax break. "I didn't want that to go too far, which is why I ended it very quickly," Trump said as he departed the White House for a trip to Dallas. When asked about prior comments from Representative Kevin Brady, the chairman of the House Ways and Means Committee, saying retirement changes were under consideration, Trump said: "Maybe it is and maybe we'll use it as negotiating." But he added that Brady knows how important 401(k)s are.
Brady didn't rule out changes to the retirement plans earlier Wednesday morning, saying Republicans are "exploring a number of ideas" to "create an incentive for Americans to save more and save sooner."
"We want more Americans to save more. We want them to save earlier in their life. Right now we are not a nation of savers," he said, adding that House leaders are working with the White House on any solutions.
White House budget chief Mick Mulvaney suggested Wednesday evening that if 401(k) changes raised taxes on the middle class, Trump would consider vetoing the legislation.
"I can't imagine that the House and the Senate would do something that would raise taxes on middle class," Mulvaney said during a speech at Georgetown University in Washington. "If they did we would certainly give serious thought to vetoing it."
Saver's Credit
Speculation about the tax treatment of 401(k) retirement accounts has been swirling in Washington for months, as Congress tries to come up with revenue raisers to offset the historic tax cuts Trump has promised. Currently, workers can contribute as much as $18,000 a year -- or $24,000 a year for those over 50 -- to such accounts from their pretax earnings.
Reports last week said Republicans were considering reducing that cap to as little as $2,400 annually. The move would pull future tax revenues forward by requiring Americans to pay taxes on retirement savings now instead of when they tap their nest eggs.
John Thune, the No. 3 Republican leader and a senior member of the Senate Finance Committee, said members of the panel are "talking about" making a change to the retirement tax break, but no decisions have been made. He said whatever they do, they will still make it a priority for people to have retirement savings incentives.
"The one thing we want to do is maintain incentives for savers that are as good or better than what we have today," Thune said. "That will shape our discussions, but we haven't made any final decisions."
He said ideas on the table include moving toward a "full Rothification" which would have people pay taxes up front and put their savings in after-tax Roth retirement vehicles, and expanding the saver's credit, which is a retirement benefit for low and middle-income workers.
'Class Five Rapids'
Still, Senator Tim Scott, a South Carolina Republican and member of the committee, said the idea of changing the retirement tax break has not entered into any of the meetings in which he has taken part.
"Creating a disincentive for Americans to save is not in the best interests long term of the country or of the average person," Scott said.
The Sept. 27 tax framework released by the White House and GOP leaders sought to lay out some clear goals -- including setting a corporate tax rate of 20 percent and cutting tax rates on businesses and individuals -- but it doesn't offer answers to some of the toughest questions, such as where to set income brackets or which corporate tax breaks to end. The House and Senate may go their separate ways in filling in the blanks -- and possibly changing key provisions included in the framework -- ultimately walking back what Trump has said is non-negotiable.
"We're about to go through class five rapids, which are the biggest rapids you can go through, and we got to make sure everyone stays in the boat and we get the boat down the river," House Speaker Paul Ryan said at a Reuters Newsmaker event Wednesday morning, referring to the need for GOP members to be unified as lobbyists fight to preserve special tax breaks. "That's why this hasn't been done in 31 years."
— With assistance by Anna Edgerton
Before it's here, it's on the Bloomberg Terminal.
LEARN MORE