Catalan Brinkmanship Enters Crunch Time as Spain Readies to Act
By
Parliament in Barcelona convenes to prepare response

Senate begins two-day vote to strip Catalonia's powers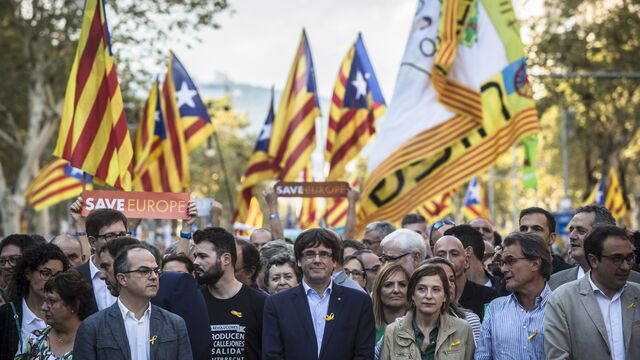 Spain entered a critical 48 hours as Catalan separatists either succumb to the authority of Madrid or escalate their push for independence.
Regional President Carles Puigdemont faces a make-or-break decision that could either ease tensions or see him unilaterally declare Catalonia a sovereign republic. It risks deepening the biggest constitutional crisis in western Europe's fifth-largest country since an attempted coup in 1981.
"The scenario of independence is one that we cannot allow and which will not happen," Economy Minister Luis de Guindos told Spanish radio on Thursday. He said there was already a "significant slowdown" in economic activity in the region. "They're caught in a mousetrap. It seems their own decisions are producing vertigo."
The Catalan leader is due to address the regional parliament on Thursday afternoon. Barcelona-based newspaper Ara reported he may call an election and not declare independence if Spain backs down from its plan to implement Article 155, the draconian constitutional tool that would see Puigdemont and his administration ousted from office. In Madrid, the Spanish Senate begins to a two-day vote on the measures.
Prime Minister Mariano Rajoy would have sweeping powers over Catalonia from its budget to its police force. The government would administer Catalan services and the takeover might include the region's TV3 broadcaster, de Guindos said.
"At this point, it seems the crash is almost inevitable," said Alejandro Quiroga, professor of Spanish history at Newcastle University. "We could get a declaration of independence while Madrid moves in to suspend the region simultaneously. You can get two parallel administrations competing for control."
Back and Forth
It's been a week of mixed messages from the Catalans and political maneuvering by Rajoy.
Catalonia's foreign affairs chief, Raul Romeva, suggested in an interview on Wednesday separatist leaders would consider dropping their demand for independence should the Spanish government offer a palatable way out.
There were also noises that Puigdemont might address the Senate in Madrid on Thursday as part of the debate on Article 155, though he rejected an invitation to defend his case.
Meanwhile, Rajoy has sought to maintain political air cover for his hard line approach as the opposition Socialist Party balked at backing the Catalans into a corner. The Socialists floated the idea that a snap regional election in Catalonia would be enough to stop Article 155 from being implemented. Rajoy told the Spanish Parliament on Wednesday that "we have to restore the rule of law."
"Having gotten this far, a regional election would seem like taking a step back," said Veronica Fumanal, who specializes in political communication and has advised Socialist Party leader Pedro Sanchez. "Puigdemont is under enormous pressure to deliver."
Ready to Rumble
With businesses decamping, tourist numbers dropping and Spain's healthy economy growth potentially taking a hit, some in Catalonia are seeking a dignified climb-down.
Business lobby Cercle d'Economia this week urged Puigdemont to call elections "immediately" after warning of damage to the Catalan economy and social cohesion in the region. Barcelona-based newspaper La Vanguardia published two editorials asking Puigdemont to appear before the Senate and call an election to preserve the region's self-rule.
Yet that might not be enough to appease the 2 million or so supporters the independence campaign claims to have.
The main activist group ratcheted up expectations of a dramatic statement on Friday. The Catalan National Assembly has called its members to surround the regional parliament from noon, a human shield against Rajoy's authorities. "Now we have to defend the republic," the group's leadership said in a text message to its members.
Political Crossroads
Financial markets seem to have taken the latest twists in their stride. Spanish bonds were little changed, in line with most in the euro zone, before the European Central Bank's policy statement in Frankfurt. They rose for a fourth day on Wednesday, their longest winning stretch since the Oct. 1 illegal independence referendum that took the Catalan separatist campaign of recent years to a new level.
Puigdemont says the result of the plebiscite, marred by Spanish police violence against voters that drew wide condemnation, does give him the mandate to establish an independent Catalan republic.
Underscoring the tension, the president held an urgent meeting with his cabinet on Wednesday, while the timing for Thursday's parliamentary session -- initially set for 10 a.m. – was pushed into the afternoon and changed two times over the course of the day.
The Catalan government will use the plenary to present its response to Article 155. The Catalan parliament could also use the session to enact independence legislation after releasing the results of its referendum. Puigdemont made a symbolic declaration on Oct. 10, though suspended the announcement and asked for time to talk. The question is whether he's now run out of options.
"Since Article 155 will be applied there are few reasons for Puigdemont and the parliament's majority to not release the suspension," said Joan Tarda, a lawmaker in the Spanish parliament for Esquerra Republicana, one of the two parties that make up Catalonia's leadership.
— With assistance by Esteban Duarte, Charles Penty, and Thomas Gualtieri
Before it's here, it's on the Bloomberg Terminal.
LEARN MORE