Yellen Is the Standout Fed Candidate If You Go by Trump's Tweets
By and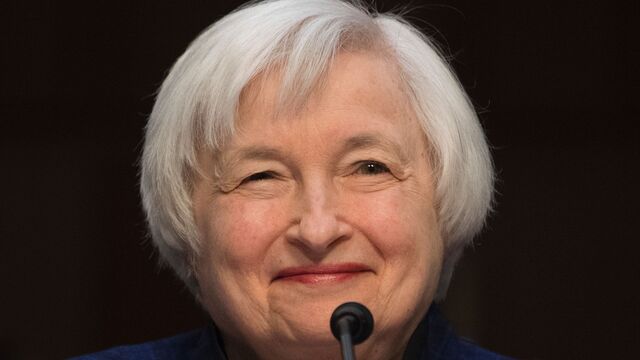 Looking for a fresh way of handicapping President Donald Trump's choice to head the Federal Reserve? Maybe check his stock tweets.
By now it's evident that the president cares about the direction of equities, posting pictures and accounts of the Dow Jones Industrial Average multiple times since taking office. In isolation, it's an obsession that Wall Street says would bode well for the incumbent, Janet Yellen.

Of course, things are never in isolation, and while Yellen has made the short list, she's widely viewed as trailing Stanford University professor John Taylor and current Fed Governor Jerome Powell among the candidates. In a survey of 144 investors conducted Oct. 19 by Evercore ISI, Powell's odds were put at 29 percent compared with 20 percent for the current chair.
"One of the reasons Yellen is still in the mix is that she is truly and unequivocally the chair that citizen Trump would prefer," said Isaac Boltansky, policy analyst at Compass Point Research & Trading. But investors must reconcile "the inherent differences between the preferences of Citizen Trump and President Trump."
It's also worth noting that neither Powell nor Taylor strike unalloyed dread into equity owners. Both are seen as opponents of regulation who may end up sticking to the Yellen script in coping with an uneven economic recovery. The president told reporters on Monday that he was "very, very close" to announcing his nominee, who will have to be confirmed by the Senate. Yellen's current four-year term ends on Feb 3.
Here's what analysts say about who's best for equities.
Ed Yardeni, president and chief executive of Yardeni Research:
"Why change horses when you're winning the race? Yellen has been coincidentally associated with the bull market rally, and Trump has enjoyed watching the market go up. Yellen is very dovish and very cautious, and the market loves that. If it comes down to Trump wanting to extend the stocks rally, Yellen would be his best bet. Yellen is known for her dovish views, if a dove is elected as the next Fed chair, chances are high that the market will relax and continue its advance."
Chris Rupkey, chief financial economist, MUFG Union Bank:
"Yellen is the best choice for stocks. I am less sure the choice of Fed Chair is critical for the stock market to continue to rally. Nevertheless, Yellen is a vote for the status quo and with the Dow industrials closing up 18.6% tonight year-to-date, the stock market clearly has no problems with the Fed's gradual pace of rate hikes that Yellen has engineered as head of the committee.
Greg Valliere, chief global strategist, Horizon Investments:
"The markets are very comfortable with her, and her concern about low inflation has proved correct. She and Bernanke were more responsible than anyone else in preventing a second Great Depression. They embraced novel prescriptions and they worked. Contrast that with John Taylor's rigid 'Taylor rule,' which would have disastrously hiked interest rates when the economy wasn't ready for that kind of harsh medicine."
Dennis DeBusschere, head of portfolio strategy at Evercore ISI:
"Broadly speaking Yellen will be considered the most favorable for stocks because she's consistently been worried about relatively weak or persistently low inflation. And talking with investors, I think most people would agree that Yellen would be -- or Powell who is not too different from her -- the best for the stock market."
— With assistance by Sarah Ponczek
Before it's here, it's on the Bloomberg Terminal.
LEARN MORE