Temer to Be Released From Hospital Later Today: Presidency
By , , and
Lower house due to vote on Temer corruption charges Wednesday

Lack of quorum in house for crucial vote as allies drag feet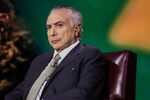 Brazil's President Michel Temer is due to be discharged from a Brasilia hospital later on Wednesday after undergoing urological exams and treatment, the presidency said in a press release.
The president had a bladder catheter inserted after doctors diagnosed a urological blockage. He is currently resting and will be released later, according to the statement. Temer, a 77-year old lawyer by training, has a prostate problem, according a cabinet member, who requested not to be named.
The Bovespa stock exchange briefly plummeted but has since bounced back. Aguinaldo Ribeiro, leader of the government in the lower house of Congress, said Temer would soon be back in the presidential palace.
News of the hospitalization came as the lower house was discussing whether to put Temer on trial for corruption, a move that would suspend him from the presidency. Coalition leaders had struggled to mobilize their rank and file to come out in support of Temer, meaning there was still insufficient quorum by 4p.m. local time to start voting.
Earlier in the day opposition legislators protested outside the plenary while defense lawyers, prosecutors and legislators debated the charges.
"I don't think it's worrying," said Raimundo Lira, leader of Temer's PMDB party in the Senate, referring to the president's condition. "It's excessive worrying and work load," he added, after visiting Temer in the hospital on Wednesday afternoon.
The president has been enmeshed in a five-month corruption scandal that frustrated his efforts to push far-reaching economic reforms to help balance Brazil's battered public accounts and accelerate recovery from the worst recession on record.
Earlier in October Temer was diagnosed with a slight obstruction in one of his coronary vessels, according to an official at the presidential palace who also requested not to be identified.
Lower House Chief Rodrigo Maia is the next in line to the presidency.
Before it's here, it's on the Bloomberg Terminal.
LEARN MORE