Barclays May Face Investor Jitters on Credit-Card Defaults
By and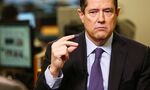 Barclays Plc's Jes Staley may need to reassure investors on two fronts when the bank reports third-quarter results on Thursday.
While an industrywide slump in securities trading has likely weighed on the investment bank, analysts will look for any clues on how the group's more profitable retail and card businesses are faring after U.S. rivals signaled this month they're preparing for more credit defaults. Consumers make up 13 percent of the British bank's lending book, with some 40 billion pounds ($52 billion) worth of loans in the U.S. alone, according to Redburn (Europe) Ltd.
Chief Executive Officer Staley's relatively prudent approach to the consumer-lending unit could serve Barclays well this earnings season. The bank has topped up provisions and sold off a chunk of its riskier credit-card balances in the U.S. Still, credit impairment charges in the bank's international division rose 23 percent in the first half.

"There are reasonable concerns that consumer lending could be entering a provision cycle," Fahed Kunwar, an analyst at Redburn in London, wrote in an Oct. 20 note. Citigroup Inc. and JPMorgan Chase & Co. "highlighted the threat from unsecured lending," he said. "Barclays may have been on the front foot about its U.S. consumer-lending exposures."
Barclays also faces a slowing economy at home after the Brexit vote -- the bank said in July that internal measures of consumer confidence has started to "retract." The retail division tightened its underwriting standards following warnings from the Bank of England that banks may be slipping into a "spiral of complacency" after years of low defaults. Credit-card impairments in the U.K. increased 9 percent to 398 million pounds in the first six months of 2017 from a year earlier.
Shares of Lloyds Banking Group Plc fell as much as 2.8 percent on Wednesday after the bank increased quarterly impairments by almost a third.
Click here for more on the Bank of England's warnings on consumer credit.
With Staley saying in May Barclays may need another year and a half before it generates an acceptable return on equity for investors, analysts will be seeking any clues on when he plans to boost the dividend. Higher leverage-ratio requirements may constrain payout increases if the BOE raises capital requirements for U.K. lenders next month.
The dividend, which was cut in half last year to help Barclays absorb losses from selling off non-core assets faster, could yield 5.3 percent in 2018, among the highest in Europe, analysts at Credit Suisse Group AG wrote in an Oct. 23 note. It yields just 1.5 percent currently, or barely more than 10-year benchmark U.K. government bonds.
3Q 2017 ESTIMATES:
Broker estimates compiled by Barclays (based on survey of 12 analysts):

Total income net of insurance claim GBP5.31b
Net oper. income GBP4.75b
Total operating costs GBP3.34b
Adj. pretax GBP1.43b
CET1 ratio 13.3%
DATA:
28 ratings, 12 buys, 7 holds, 6 sells; average PT 216.44p implies ~9.3% upside
Options market implying 2.9% move either way on earnings day versus 3.8% average
TIMING
Earnings 7 a.m. U.K. time; conf. call 9:30am +44 (0)203 059 8116, password "Barclays"
Before it's here, it's on the Bloomberg Terminal.
LEARN MORE