Bank of Canada In No Rush to Cool Economy With Rates
By
Benchmark rate remains at 1% after two consecutive hikes

Policy makers flag rising loonie, Nafta talks as concerns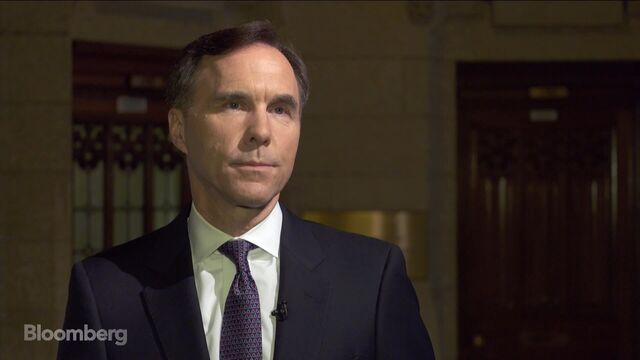 The Bank of Canada indicated it's in no rush to cool an economy that is very close to running up against capacity constraints, citing a long list of worries ranging from gains in the Canadian dollar to risks associated with growing protectionism in the U.S.
Policy makers led by Governor Stephen Poloz left the benchmark overnight rate at 1 percent Wednesday, after consecutive hikes at the bank's last two decisions in July and September, and warned they will remain "cautious" when considering future hikes.
Spooked by a jump in the currency this year, the Bank of Canada is trying to curb expectations for accelerated rate increases after a growth surge over the past year eliminated the bulk, if not all, of the economy's excess capacity.
The Canadian dollar dropped 1 percent after the statement, with investors pushing out odds for the next rate hike. A rate increase is now fully priced in by March, with another in September. Before Wednesday's announcement, investors had been fully pricing in the next rate hike in January.
In addition to a stronger loonie that is weighing on inflation and exports, the bank highlighted growing risks associated with renegotiation of the North American Free Trade Agreement, slowing housing market plus evidence of continued slack in the labor market despite recent strong economic growth. There is also some uncertainty over the impact higher interest rates will have on households given record high personal debt levels.
"While less monetary policy stimulus will likely be required over time, Governing Council will be cautious in making future adjustments to the policy rate," policy makers said. "The Bank will be guided by incoming data to assess the sensitivity of the economy to interest rates, the evolution of economic capacity, and the dynamics of both wage growth and inflation."
Currency Concerns
With Wednesday's drop, the Canadian dollar has declined 5.3 percent since peaking Sept. 11. The Canadian dollar is still up 7.5 percent since May 4, when it hit its lowest closing rate.
The language underscores how the path to rate normalization is an extremely delicate balancing act, with policy makers worried that hiking interest rates by too much too quickly will unnecessarily undermine an economy that's been running below capacity for almost a decade.
Part of the problem is that there is little sign of strong inflation pressures even as one key measure of capacity used by the Bank of Canada -- the output gap -- has fully closed. Asked about the issue at a press conference, Poloz said he distinguishes between overall economic capacity, which includes labor market measures, and the output gap, which is a more narrow measure.
And labor market indicators remain sluggish even with declines in unemployment, he said.
At the press conference, he reiterated his belief that the nation is at the "sweet spot" of the business cycle where growing demand is actually generating new capacity as companies invest to meet sales.
"One way to encourage investment is to keep demand high," said Aubrey Basdeo, head of Canadian fixed income at BlackRock, the world's largest money manager, who doesn't expect any rate increases this year.
Trade and Inflation
A "notable shift" toward protectionism also played a prominent role in the central bank's narrative, especially Nafta renegotiation. Policy makers have already begun to incorporate uncertainty about trade into their growth forecast, assuming it will lower investment growth by about 0.7 percentage points and export growth by about 0.2 percentage points in 2017 and 2018.
Another factor informing the central bank's decision making is its recent failure to hit its inflation target, consistently undershot.
"Given our recent history with inflation running below target, we continue to be more preoccupied with the downside risks to inflation," Poloz said in an opening statement at the press conference.
But the gain in the currency may have loomed largest in the rate statement and quarterly Monetary Policy Report.
The central bank said the higher loonie will delay a return to 2 percent inflation to the second half of 2018 -- from the middle of 2018 in the July MPR -- while curbing projected export growth. Pass-through effects of the stronger Canadian dollar are expected to peak at 0.5 percentage points in the second quarter of 2018, keeping inflation below target longer than expected.
Other Key Takeaways


The Bank of Canada doesn't want to definitively assert the output gap is fully closed. The MPR projects the output gap is zero in the third quarter, but the statement cites an economy that is operating "close" to its potential and highlights plenty of slack in the labor market. The central bank is also assessing whether the economy may have more potential than assumed. "This suggests that there could be room for more economic growth than the Bank is projecting without inflation rising materially above target"
The Bank of Canada assumed that households are more sensitive to higher interest rates, citing recent changes it is making to its modeling to take this factor into account. It said housing and consumption are slowing because of both regulatory changes and higher interest rates
The Bank of Canada said it is "mindful" that structural factors could be weighing on inflation
Gross domestic product growth is forecast at 3.1% in 2017, 2.1% in 2018 and 1.5% in 2019, from 2.8%, 2% and 1.6% in the July MPR. Potential output growth meanwhile was raised to 1.5% for 2018-19
"As such, economic activity is forecast to remain close to full capacity and at times possibly modestly above, depending on how the supply side of the economy evolves"
Growth is expected to slow to 1.8% in the third quarter this year as exports "temporarily decline", before picking up to 2.5% in the fourth quarter supported by a pick-up in business investment buoyed by the launch of some large projects
The decline in the unemployment rate "likely overstates the degree of improvement in the labor market." The labor market isn't yet "a source of inflationary pressures and that opportunities for further expansion of employment remain"
Tighter mortgage underwriting rules recently announced by Canada's banking regulator will subtract about 0.2 percent from the level of GDP by the end of 2019.
— With assistance by Greg Quinn, Erik Hertzberg, and Luke Kawa
(
Removes reference to Canadian dollar as best performing currency.
)
Before it's here, it's on the Bloomberg Terminal.
LEARN MORE