Balance of Power: Xi's Risky Gamble To Reshape China
By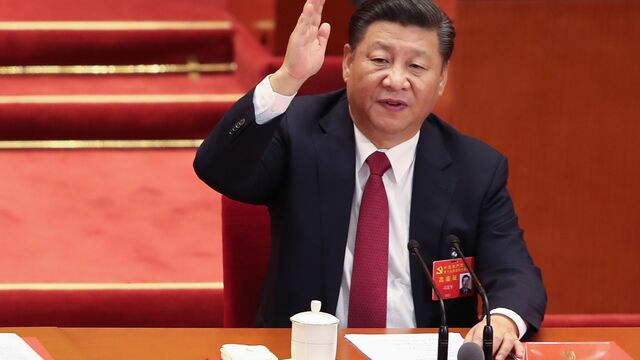 Xi Jinping emerged from China's big political reshuffle with more power than any leader in decades. Now will he use it?

Xi brought the Communist Party's twice-a-decade congress to a triumphant end, unveiling a leadership bench made up of proven allies and lacking a clear heir. Crucially, Xi got his name and his ideology written into the party charter alongside Mao Zedong, acquiring a status that could see him holding sway over China well beyond the end of his term in 2022.

The consolidation of power in the hands of one man is a departure from the collective leadership that steered China through decades of unparalleled economic growth.

Xi wants China to be a great power, projecting clout across the globe. At home, he's promised greater equality and a thriving middle class.

That ambitious vision carries risks. Many investors have grown frustrated with the pace of economic reforms over the past five years. Capital controls and other investment barriers remain, while debt soars.

Now more than ever, the future of 1.4 billion people depends on one man. If Xi doesn't succeed, China won't.

Sign up to receive the Balance of Power newsletter in your inbox, and follow Bloomberg Politics on Twitter and Facebook for more.
Global Headlines
Republicans rebel | U.S. President Donald Trump, who incited an anti-establishment uprising to win the White House, is facing a full-blown rebellion of his own, with two prominent Republican senators calling him a danger to democracy. Jeff Flake lamented the "degradation" of U.S. politics, while Bob Corker accused Trump of "debasing" the nation. With both on their way to retirement, the senators' unbridled indictments threaten to impede a proposed tax cut that's helping to fuel record stock market gains.

Fed candidates feud | The race to be the next Federal Reserve chair is rekindling a feud between finalist Kevin Warsh and Randal Quarles, the newest Republican appointee to the Fed board. Quarles has questioned Warsh's qualifications and whether he would seek to extend his reach beyond what's appropriate for a central bank chief. They may both be sidelined, however. As Craig Torres and Jennifer Jacobs report, Trump may be leaning towards keeping current Chair Janet Yellen.

Subduing Catalonia | Prime Minister Mariano Rajoy's plan to crush the Catalan independence drive is sounding alarm bells with his allies in Madrid. The Socialists, Spain's biggest opposition party, have signed up to Rajoy's push. But as Esteban Duarte and Rodrigo Orihuel report, they're balking at the focus on seizing control of the administration in Barcelona instead of encouraging Catalonia's leadership to execute a dignified retreat.

Business as usual | While President Vladimir Putin and Trump have forged few personal ties amid allegations of Kremlin meddling in the U.S. elections, a Russian business delegation is in New York tomorrow to try to revive relations. One Russian official calls Trump a "hostage to hysteria" gripping the U.S. that only business contacts can ease.

Echos of Obamacare | Congressional leaders seeking to rewrite the U.S. tax code are using a playbook similar to the one that failed when they tried to repeal Obamacare. Republicans are again trying to ram through a bill that would reshape the economy in just a few weeks, keeping the details shrouded in secrecy. They're unlikely to get a different result this time.

And finally... Having recently been swept from office, New Zealand's conservative National Party suffered a further defeat -- at the hands of U.S. rapper Eminem. The country's High Court ruled the party used music similar to his hit track "Lose Yourself" in a 2014 campaign advertisement and ordered it to pay $414,000 in damages, with interest. While the party is considering an appeal, it also lodged a claim against the Australian-based music production library from which it bought the track titled "Eminem Esque."

Before it's here, it's on the Bloomberg Terminal.
LEARN MORE