Leon Black Expects Oil Prices to Stabilize Between $55-$60
By and
Forecast follows Saudi vow to keep targeting crude stockpiles

Prices should rise slowly in the near term, asset manager says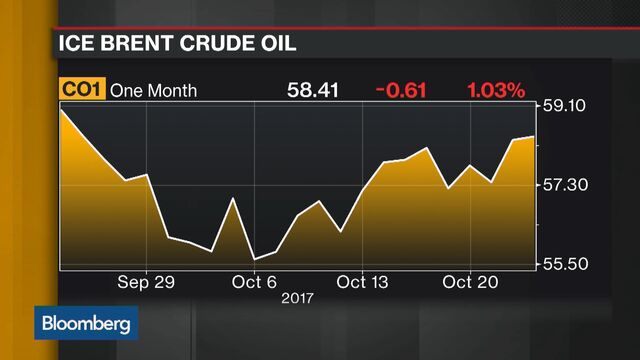 The head of Apollo Global Management LLC expects oil prices to stabilize between $55 to $60 a barrel in the near term.
The gain in prices will occur slowly, Chief Executive Officer Leon Black said Wednesday at a conference in Riyadh, Saudi Arabia. The comments come a day after the Saudi energy minister, speaking at the same meeting, said the Organization of Petroleum Exporting Countries will do what's necessary to reduce fuel stockpiles.
OPEC is set to meet next month on prolonging output cuts that are part of a deal set to expire at the end of March. On Tuesday, the cartel was said to be working on an exit strategy that won't result in a renewed price-killing glut. West Texas Intermediate, the U.S. benchmark, has recently hovered near $52 a barrel, after averaging about $49 for the year.
Khalid Al-Falih, Saudi Arabia's energy minister, said on Tuesday that oil demand is more resilient than people think. At the same time, the Energy Information Administration raised its 2018 price forecast this month, estimating WTI will average $50.57 next year.
Black said New York-based Apollo, with about $232 billion in assets under management as of June 30, has played oil price volatility "opportunistically," and that geopolitical risk has been largely absent from financial markets.
"We are living in a strange world with lot of geopolitical volatility, but it's not in financial markets," he said.
Before it's here, it's on the Bloomberg Terminal.
LEARN MORE