U.S. Will Resume Admitting Refugees But Impose Stricter Vetting
By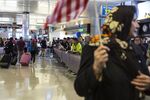 President Donald Trump has ended his ban on admitting refugees to the U.S. but will enact stricter vetting procedures for them, administration officials said.
Applicants from 11 countries will face even tougher standards as the administration continues to review its refugee screening procedures, the officials said. Applicants from those countries will have to show both that they pose no threat and that their entry is in the U.S. national interest, the officials said.
They declined to identify the countries, citing law enforcement concerns, but said that individuals from the nations were likely to pose a higher security risk. Previously, the administration has tried to block entry by travelers from a group of predominantly Muslim countries in the Middle East, citing terrorism concerns. 
The U.S. will collect more extensive biographical data on all refugee applicants and they'll also be subject to reviews of their social media postings, the officials said. The officials declined to say what biographical data the U.S. will collect, citing law enforcement sensitivities.
The officials insisted on anonymity to discuss a pending order from the president.
Before it's here, it's on the Bloomberg Terminal.
LEARN MORE