U.S. Condemns `Atrocities' in Myanmar as New Sanctions Weighed
By and
'No question in our minds that atrocities have been committed'

Myanmar military leaders are being barred from visiting U.S.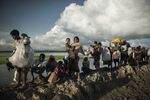 The U.S. is considering new sanctions on Myanmar after a million Rohingya Muslims fled the Southeast Asian nation's Rakhine state to neighboring Bangladesh in what a State Department official called a crisis of "epic proportions."
"There's no question in our minds that atrocities have been committed," Patrick Murphy, deputy assistant secretary of state for southeast Asia, told reporters in Washington Tuesday, a day after the U.S. disclosed that it has barred visits by current and former Myanmar military officials.
While human rights groups have described the treatment of the Rohingya in mostly Buddhist Myanmar as crimes against humanity and the United Nations' top human rights official has called it "ethnic cleansing," Murphy sidestepped those descriptions, saying "the terminology is really not an issue for us."
The latest tensions were sparked on Aug. 25 when militants from the Arakan Rohingya Salvation Army attacked 25 police and army posts, killing a dozen security officials in the eastern state of Rakhine. The military responded with what it calls "clearance operations." There have been reports of security forces and Buddhist vigilantes indiscriminately attacking Muslims in the state and burning their villages.
Read more: A QuickTake Q&A explaining Myanmar's Rohingya Crisis
In a statement on Monday, State Department spokeswoman Heather Nauert disclosed that since Aug. 25, the U.S. had ceased consideration of travel waivers for current and former Myanmar military leaders and was assessing further economic options available to target individuals associated with any atrocities.
"It is imperative that any individuals or entities responsible for atrocities, including non-state actors and vigilantes, be held accountable," she said.
The statement was one of the first signs that the U.S. may reimpose sanctions on Myanmar that were lifted after it shifted toward democracy. Former political prisoner and current Myanmar leader Aung San Suu Kyi has described the military operations in Rakhine as a counterterrorism operation, and has said she condemns any unlawful violence.
But Suu Kyi, a Nobel Peace Prize laureate who endured years of house arrest by a military junta during her campaign to bring civilian rule to Myanmar, has come under fire for not speaking out more more forcefully against the violence and for questioning reports that the government security forces and Buddhist vigilantes indiscriminately attacked Rohingya and burned their villages. The military continues to hold formidable political power in Myanmar.
Nauert said all Myanmar military units and officers involved in operations in northern Rakhine State would be ineligible to receive or participate in any U.S. assistance programs. All invitations for senior Myanmar security forces to attend U.S.-sponsored events have been rescinded, she said.
Imposing new sanctions on Myanmar would be unfair, U Nyan Win, a spokesman for the ruling National League for Democracy party, said in a telephone interview on Tuesday.
"Our chairman, Daw Aung San Suu Kyi, has already promised to find out why people fled to Bangladesh and invited international communities to find out why people fled," U Nyan Win said.
The U.S. government began a program of sanctions against Myanmar in May 1997 when the country was run by a military junta. Following a transition toward democracy, President Barack Obama ended the program in 2016. The European Union lifted sanctions against Myanmar in 2013, with the exception of an arms embargo.
— With assistance by Larry Liebert
Before it's here, it's on the Bloomberg Terminal.
LEARN MORE