Toughest to Come for Macron on French Reform, Labor Expert Says
By and
Reforming unemployment insurance, pensions may be explosive

For Macron, labor market reform may have been the easy part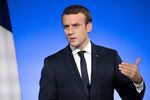 The relatively painless passage of President Emmanuel Macron's labor market reform shouldn't lull investors or France's partners into complacency because the hardest tasks lie ahead for the young leader, one of the nation's top social policy specialists said.
Revisions to labor rules that give French companies more power to negotiate hours and pay and limit penalties for wrongful dismissal were signed into law by the 39-year-old president last month. Though the changes were the sort that had stymied previous administrations, they drew only tepid protests, giving Macron a signification economic achievement to back his demands for other policy changes within the European Union.

Now, he is embarking on an overhaul of France's unemployment insurance and training systems, with the problem of the country's deficit-generating retirement system looming. Not only could those subjects prove explosive, but Macron didn't set out his plans in those areas clearly during the election campaign, weakening his ability to claim a mandate to change them.
"The most difficult tasks lie ahead for Emmanuel Macron," said Raymond Soubie, who first started handling labor and social relations for governments in 1969. "There are risks linked to the unemployment insurance reform, which could reduce workers' rights. There is the risk linked to pensions -- the special retirement plans are in deficit and they'll have to take short-term measures. And there are political risks."
Falling Popularity
As social affairs adviser to President Nicolas Sarkozy between 2007 and 2010, Soubie, 77, was one of the key players who helped that government push through an increase in the retirement age, an effort which brought about 1 million protesters in the streets across France. He was also involved as a mediator in the three-week strike that paralyzed France in 1995.
Macron began talks with unions and business lobbies on overhauling the unemployment insurance system on Oct. 12 and aims to write changes into law by the middle of next year.
The president's plan do away with a wealth tax at the same time as he shrinks a housing subsidy for the poor has already earned him the moniker "the anti-Robin Hood." The president's approval rating dropped 3 points to 42 percent, according to an Ifop poll published Sunday.
Before it's here, it's on the Bloomberg Terminal.
LEARN MORE