Protester Inside U.S. Capitol Hurls Mini Russian Flags at Trump
By
Unclear how protester was able to access corridor near Senate

Trump at Capitol to meet with Senate lawmakers on tax overhaul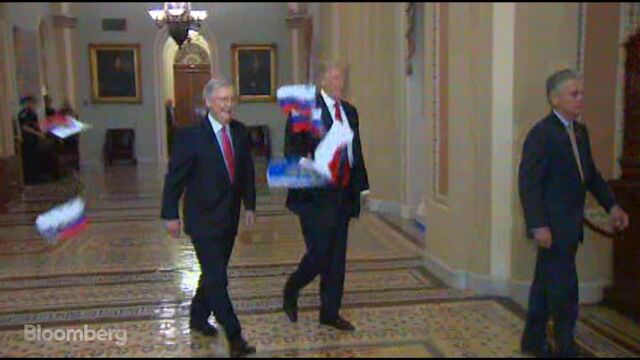 A male protester, feet away from President Donald Trump as he walked through a corridor outside the U.S. Senate chamber, shouted "Trump is treason" and hurled what appeared to be several small Russian flags in the direction of the president in a major security breach inside one of Washington's most secure complexes.

Trump, walking alongside Senate Majority Leader Mitch McConnell, flashed a smile and a thumbs up as the man shouted. The pair didn't break stride as they walked past assembled media there to report on the president's meeting with Republican lawmakers to push for action on a tax overhaul, Trump's top priority at the end of his first year in office.
"Why is Congress talking about tax cuts when they should be talking about treason?" the protester in a dark suit, blue shirt and red tie screamed at the assembled media. Police in the corridor off the Senate floor quickly moved to arrest him.
It's unclear how the man, who has not yet been identified, was able to access the secure location inside the U.S. Capitol. It's impossible to get to without clearing at least one security screening checkpoint, complete with uniformed Capitol Police officers checking congressional identification credentials, metal detectors and airport-style baggage checks. Usually a space limited to lawmakers, credentialed reporters, and congressional staff, security had been tightened in advance of Trump's visit.
Trump's hour-long meeting with Senate Republicans on taxes began as scheduled.
Before it's here, it's on the Bloomberg Terminal.
LEARN MORE