Portugal's Costa Defeats Censure Motion With Backing From Allies
By
Censure motion was presented after fires killed more than 100

Interior minister resigned after Oct. 15 forest blazes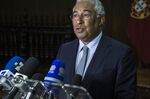 Portuguese Prime Minister Antonio Costa's government survived after getting support from its usual allies in parliament to defeat a censure motion on how the administration handled forest fires that left more than 100 dead.

The Left Bloc, Communists and Greens joined the ruling Socialists in voting against the motion, according to Eduardo Ferro Rodrigues, the parliament's president. Conservative opposition party CDS presented the censure motion after considering the government failed to protect its citizens. The Social Democrats, the biggest group in parliament, backed the motion.
"Nothing can stay like it was before," Costa said before the vote on Tuesday. The government has assumed responsibility and on Saturday announced new plans for fighting forest fires and offered aid to rebuild homes.
Costa, who is halfway through a four-year term in office, accepted Interior Minister Constanca Urbano de Sousa's resignation last week after hundreds of wildfires spread across the country on Oct. 15, killing more than 40 people. In June, forest blazes left more than 60 dead, some of them in homes and in cars as they attempted to flee.
The Oct. 15 fires happened exactly two weeks after the ruling Socialists claimed their biggest victory in local elections, taking 38 percent of the vote and 159 of the country's 308 town halls. Tourism and exports have been boosting the economy and helping the minority government manage the budget deficit, which last year was the narrowest as a percentage of gross domestic product in four decades of Portuguese democracy.
Costa's minority government took office at the end of 2015 and has been consistently supported in parliament by the Left Bloc, Communists and Greens, which hadn't followed the moderate Socialists in backing European budget rules in the past. Costa has reversed state salary cuts faster than the previous administration proposed, while raising indirect taxes.
An initial vote on the 2018 budget is scheduled for Nov. 3.
Before it's here, it's on the Bloomberg Terminal.
LEARN MORE