Macron Says He Raised Human-Rights Issues With Egypt's el-Sisi
By
Macron advocates freer civil society as sheild against terror

El-Sisi defends Egypt's record, saying it doesn't use torture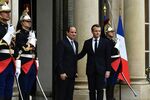 French President Emmanuel Macron said he told Egyptian President Abdel-Fattah el-Sisi that the fight against Islamic terrorism is "stronger when we defend human rights and individual liberties."
Speaking Tuesday in Paris after meeting el-Sisi, Macron said he understood the "context" of Egypt's fight against violent guerrilla groups and that it wasn't his intention to lecture the leaders of other countries. But a vibrant civil society is a "shield" against Islamic terrorism, the French president said, adding that he raised the issue of individual journalists and activists jailed in Egypt.
Human rights groups have accused the French government, the second largest military supplier to Egypt after the U.S., of not speaking out against what they say is a campaign by el-Sisi's government to crack down on all forms of dissent, not just from violent groups.
"Egypt is facing its worst human rights crisis in recent history," Hussein Baoumi, head of Egyptian campaign of Amnesty International, told reporters Monday. "The silence of foreign governments sends a powerful message to the Egyptian government that they can continue on their ways."
For his part, El-Sisi warned against "listening to false information."
"We do not use torture," he said, answering to a French journalist's question. There are 40,000 civil society groups working freely in Egypt, he said, noting that the country is facing "a violent extremism that wants to impose its dictatorship."
Before it's here, it's on the Bloomberg Terminal.
LEARN MORE