Senior Tory Asks Zuckerberg About Brexit-Related Russian Ads
By
Company has faced tough questions on Russian ads in the U.S.

Request forms part of Parliament's fake news inquiry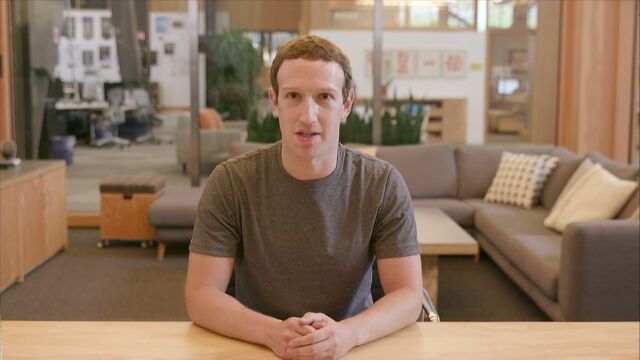 The head of a U.K. Parliamentary panel probing fake news has asked Facebook Inc. to hand over information about Russian-linked advertising that might have sought to affect the outcome of Brexit referendum.
Damian Collins, a Conservative Party MP, wrote Mark Zuckerberg, Facebook's chief executive officer, "politely requesting" the information on Oct. 19, according to a letter Collins's office made public Tuesday.
The move comes as Facebook faces multiple investigations in the U.S. over advertising and accounts linked to the Russian government that sought to influence the outcome of the 2016 U.S. presidential election. Now Parliament wants to know if Russia also used Facebook to try to affect the outcome of the Brexit vote.
"We have received a letter from the Digital, Culture, Media and Sports Committee and will respond once we have had the opportunity to review the request," a Facebook spokeswoman said.
Collins is chair of the House of Commons Digital, Culture, Media and Sport Select Committee, which is conducting an inquiry into fake news. "Part of this inquiry will focus on the role of foreign actors abusing platforms such as yours to interfere in the political discourse of other nations," Collins wrote to Zuckerberg.
Labour Party MP Ben Bradshaw, the former Culture Secretary, had previously called for Parliament to look into the role "dark money" may have played in the Brexit vote.
The committee is asking Facebook to provide it with examples of advertising purchased by Russian-linked accounts, pages set up by Russian-linked accounts and information regarding the targeting of these ads and pages. It is also asking Facebook to reveal how much money it earned for these ads, how many times they were seen and how many times the pages they promoted were viewed.
Collins said in his letter that he believed the information he was requesting was "in line with that already supplied by Facebook to several United States Senate Committees" in their investigations into Russian meddling in the presidential vote.
Before it's here, it's on the Bloomberg Terminal.
LEARN MORE