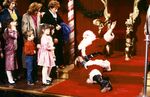 A 75-page highway code for currency traders was released this year to try to foster a robust, fair, liquid, open and "appropriately transparent" functioning of the $5 trillion foreign-exchange market. The Global Code of Conduct is a self-regulation manual designed to restore the reputation of an industry dogged by scandal and rigging allegations.
Judging by the conviction of HSBC's former top currency trader for fraudulently front-running a client order, it needs a reboot.
The global code of conduct doesn't mention front-running anywhere, because, as everybody knows, "front-running is a crime." It's almost too obvious a fact. Does a stockbroker need to be told that if they scoop up a few shares of Company X, just before putting through a client order for the same stock, that they'll profit at their client's expense?
Likewise, if HSBC's currency desk receives a $3.5 billion order from Cairn Energy Plc to convert dollars into pounds, does it need to be told explicitly that aggressively buying pounds just before the order is executed and selling them just after is the same thing?
Apparently it does. Ex-trader Mark Johnson's defense was that buying pounds ahead of a big pound order was an accepted practice called "pre-hedging." Pre-hedging, according to that trusty code of conduct, is perfectly fine—it's risk management, of course—as long as you're doing it transparently and with the client's agreement.
The code even includes some handy case studies, including one in which a bank stocks up ahead of a big client order, but it does so in combination with stop-loss orders that help keep the price low for the client. Johnson's view is that Cairn got a "fair" price out of a high-quality transaction. He plans to appeal.
A Brooklyn jury, though, wasn't convinced that his actions were all for the benefit of Cairn. Perhaps they were swayed by Johnson's use of a cryptic coded message—"left my watch at the hotel, have to go and get it"—followed by aggressive buying of the pound by at least seven traders. Perhaps it was the fact that the pound rose to a two-day high just before the deal, which Johnson and colleagues told Cairn was in fact due to a central bank.

Perhaps it was the six-figure profit made by Johnson on the trade after closing his position, according to prosecutors. What it definitely wasn't was a 50-second recording during which Johnson excitedly said, "Ohhhhh, f---ing Christmas," the only charge on which he wasn't convicted.
Despite the amusing quotes, it's hard not to feel depressed by the whole episode, plus a little cynical as traders promise to heed the lesson about being squeaky-clean and everyone pulls together to invest in yet another round of ethics training.
Even if it's encouraging that a top currency trader at one of the world's biggest banks is not above the law, the line between acceptable pre-hedging and illegal front-running still looks blurry enough to be exploited—much like the line between acceptable market-making and illegal proprietary trading.

The fact is that Johnson didn't act alone. And some agree with his side of the story, including a former top trader at another global bank. If traders want to show they can self-regulate and stamp out the worst of human nature from basic currency dealing, why not scrap the simple case studies and include this one in the code of conduct instead?
Until the industry can be conclusive about the difference between front-running and pre-hedging in a real-world example like Johnson's, with all the mess that implies, expect worldly skepticism from practitioners and clients alike.
Before it's here, it's on the Bloomberg Terminal.
LEARN MORE