Deal of the Week: Stitch Fix Stands Out
Unprofitable, cash burning IPOs have become the norm. Stitch Fix isn't that.
By , , and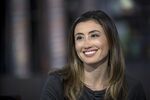 Subscribe to Deal of the Week on Pocketcast

Stitch Fix is going public, confirming Bloomberg's scoop from back in March. The online delivery company collects information on customers' style, size and price preferences and sends users five pieces of clothing for a $20 fee. And guess what? It's profitable and has had steady revenue growth, with annual sales of $977 million in the year ending July 29. That's what makes Stitch Fix so unusual, according to Bloomberg Gadfly columnist Shira Ovide and Bloomberg IPO reporter Alex Barinka. In an era of cash-burning, unprofitable startups that push to IPO, Stitch Fix stands out as a professionally run business, founded by CEO Katrina Lake, with a clean balance sheet. 
Before it's here, it's on the Bloomberg Terminal.
LEARN MORE