City of London Delivers Wish List to Chancellor Ahead of Budget
By
Call for Britain to agree transition period with EU this year

Cut taxes for firms with corporate treasury center in the U.K.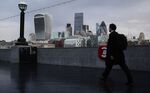 Britain needs to secure a binding agreement on a lengthy transitional period with its European partners by the end of the year or risk seeing businesses start moving abroad, according to City of London policy chairman Catherine McGuinness.
Businesses need "urgent clarity from the U.K. and the EU27 on time-limited, legally-binding transition arrangements and the principles underpinning them," McGuinness said in a letter to Chancellor of the Exchequer Philip Hammond. "The earlier transitional arrangements are agreed, the more value they will have for businesses and their customers."
Prime Minister Theresa May said Monday the transition would be negotiated as part of a wider deal, one that isn't expected to be finalized until shortly before exit day in March 2019. With the two sides deadlocked for months over what a future trading arrangement might look like, a few banks have already applied to EU regulators for permits, signed leases on new offices and will soon start relocating employees out of London.
To make Britain more attractive to foreign companies after Brexit, lawmakers should cut taxes for global firms whose corporate treasury centers are located in the U.K., McGuinness said in the letter delivered ahead of the Nov. 22 budget. She also called for "certainty and stability" over future tax changes.
"We appreciate that you will be unable to fix taxes, as the economy navigates choppy waters, but setting parameters for them, their simplification and their evolution, will aid business investment and location decisions," McGuinness said.
Before it's here, it's on the Bloomberg Terminal.
LEARN MORE