China Deleveraging Appetite May Be Decided by Trump, Not Xi
By
Solid global growth has given China room to tackle debt issue

China borrowing swelled to 260% of economy at the end of 2016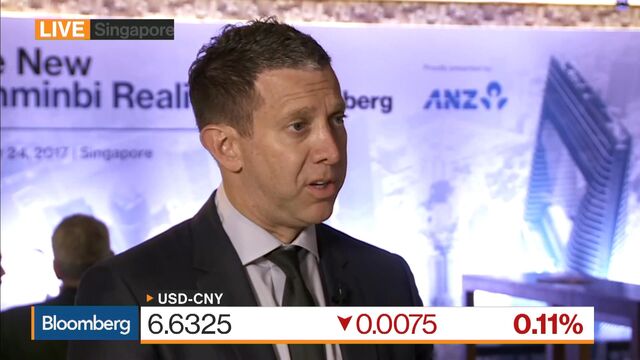 To get an idea of how quickly China's deleveraging push will go, look abroad.
All year, Asia's largest economy has been in a sweet spot. Economic growth has picked up even as policy makers pushed up borrowing costs and cracked down on shadow banking to curb financial risks. Much of this is thanks to solid growth elsewhere, especially in the U.S., which has boosted Chinese exports.

Whether China can afford to continue or even step up its deleveraging campaign will depend on the strength of this external support, rather than Chinese politics, says Howard Wang, head of Greater China at JPMorgan Asset Management. In the U.S., President Donald Trump is counting on a tax overhaul to bolster growth, while there's speculation the next Federal Reserve Chair may lead a faster pace of tightening. Europe's recovery is also strengthening.
Data this week will probably show the U.S. economy expanded at about a 2.5 percent annualized pace in the third quarter, restrained in part by the effects of two hurricanes, economists forecast the government to report. That would be the strongest back to back quarters since 2015.
If global growth picks up significantly, that won't lead to higher expansion in China because they need to deal with the debt-to-GDP problem, Wang said.
"If -- let's say -- these Republicans get through a large stimulus package and that results in economic growth accelerating from where we are right now, China will take that as a gift and spend it on deleveraging," said Wang.
Read more: Where China's deleveraging is working
Chinese bonds fell on Wednesday, with the 10-year yield rising to the highest since December 2014, after U.S. debt slid on expectations the Fed may tighten more quickly.
With China achieving some success in lowering financial risks, investors are now waiting to see if policy makers will pause the push to cut risks in the financial sector.
There's little doubt China has a debt problem: borrowing swelled to 260 percent of its economy at the end of 2016, Bloomberg Intelligence data show, while Moody's Investors Service and S&P Global Ratings both downgraded the nation this year on risks from soaring credit. Still, curbs on borrowing also risk cooling the economy excessively and stirring discontent in society -- something the Chinese leadership is keen to avoid.
Before it's here, it's on the Bloomberg Terminal.
LEARN MORE