Before Abandoning Nuclear Reactors, South Korea Will Build Two of Them
By and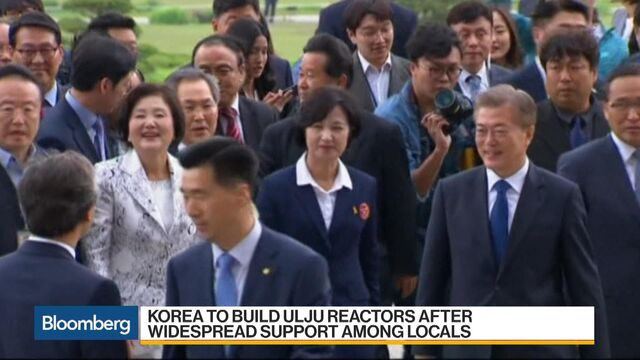 The will of the people trumps long-term energy policy goals, the fledgling administration of South Korean President Moon Jae-in is discovering.
South Korea is scrapping plans to build new nuclear reactors, the government said on Tuesday, sticking with one of Moon's campaign promises that played on concerns about the safety of atomic power after the Fukushima disaster in neighboring Japan. However, it had to give up on another pledge to halt the construction of two facilities.

Moon will resume building the $7.5 billion Shin Kori No. 5 and 6 nuclear reactors in Ulju county in the nation's southeast after a panel of 471 citizens urged the administration to continue with construction following widespread discontent among villagers. Experts warned that getting rid of nuclear power -- which accounts for 30 percent of South Korea's energy output -- would boost electricity costs.
Now the administration, which has been forced to flip on policy within just six months of taking power, is laying out a plan for the next 20 years. The number of reactors will gradually decrease to 18 in 2031 and 14 in 2038, but not before rising to 28 in 2022 from the current 24, according to a government statement on Tuesday. Completely giving up nuclear power will take more than 60 years, Moon said in August.
Before it's here, it's on the Bloomberg Terminal.
LEARN MORE