Your Evening Briefing
Here are today's top stories.
By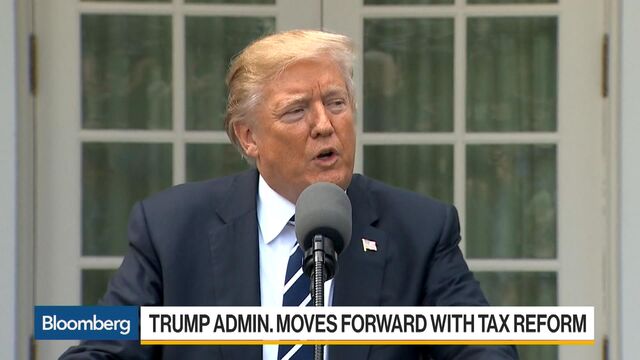 Want to receive this post in your inbox every afternoon? Sign up here.
Good afternoon. Here's some sunny news to start the week: Americans are retiring later, dying sooner, and getting sicker in-between. Except, of course, for the people who retire at 40. (Go ahead and hate-click.) —Megan Hess
Trump says there won't be 401(k) changes under his tax plan. The president's declaration on Monday, which came via Twitter, of course, marks the first time he has weighed in specifically on this portion of the tax overhaul debate. Republicans had been considering reducing the cap on the annual amount employees can set aside for their 401(k) retirement accounts — currently $18,000, or as much as $24,000 for workers over 50 — according to a New York Times report on Friday.
Americans are retiring later and dying sooner. Data released last week suggest Americans' health is declining and millions of middle-aged workers face the prospect of shorter, and less active, retirements than their parents enjoyed. Almost one in three Americans age 65 to 69 is still working, but those in their late 50s already have more serious health problems than people the same age did 10 to 15 years ago.
Take the bus instead. Singapore, which is among the world's most expensive cities to own a vehicle, will stop increasing the total number of cars on its roads in 2018. The government will cut the annual growth rate for cars and motorcycles to zero starting in February. The city wants to ensure the most productive use of its remaining space, the transport regulator said.
Amazon says it received 238 proposals for the location of its second headquarters. It didn't list which cities or regions applied, but said the proposals came from 43 U.S. states, as well as Washington, D.C. and Puerto Rico, three Mexican states and six Canadian provinces. Submissions were due last week, and Amazon made clear that tax breaks and grants would be a big deciding factor on where it chooses to land.
Trump's re-election edge is greatly exaggerated, Albert R. Hunt writes for Bloomberg View. "While Trump is sui generis, history offers guidance on the folly of predicting distant elections. At this moment in 1989, George H.W. Bush, having kept his promise not to raise taxes and with communism collapsing, seemed invincible."
NFL's $205 million man is hated by everyone except those who matter. League commissioner Roger Goodell isn't beholden to the pundits who call him "gutless" or the droves of angry people on Twitter, even the one who lives in the White House. The faith of team owners is all that really matters, and for that reason, Goodell will probably be just fine.
One of the safest homes in America. The $14 million Rice House, which sits on 3.5 acres just outside Atlanta, has a private theater, bowling alley, and infinity swimming pool. But what makes it one of the most secure places is its anti-ballistic bedroom doors and the 150,000-square-foot bunker with off-grid power and water access.
Before it's here, it's on the Bloomberg Terminal.
LEARN MORE