VW and Daimler Inspected by EU as Cartel Probe Widens
By , , and
EU antitrust visits follow last week's raids on BMW premises

EU says probe concerns 'several German car manufacturers'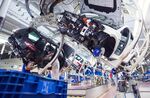 Volkswagen AG and Daimler AG were inspected by European Union antitrust investigators as the EU stepped up a probe into allegations the German car industry colluded on technology for decades.
Just days after raiding BMW AG, EU antitrust officials visited Volkswagen's Wolfsburg headquarters and its Audi unit's offices in Ingoldstadt "as part of an announced review," VW said in a statement. Daimler also received "an announced visit" to its Stuttgart headquarters, spokeswoman Ute Wueest von Vellberg said by phone.
The deepening probe represents another challenge for the German auto industry, which is grappling with the fallout of VW's diesel-cheating scandal and the disruptive shift to self-driving, electric cars. Allegations emerged in July in Germany's Spiegel magazine, which reported that VW, Daimler and BMW met starting in the 1990s to coordinate activities related to vehicle technology, costs, suppliers and strategy as well as diesel emissions controls
"The Volkswagen Group and the Group brands concerned have been cooperating fully and for a long time with the European Commission and have submitted a corresponding application" that might allow it to receive a reduction in any eventual fines, the company said in an email. "It is not yet clear whether the European Commission will instigate formal proceedings."
Leniency Program
The commission in Brussels said it carried out visits at the premises of several carmakers in Germany, accompanied by German antitrust officials. Regulators are concerned the companies may have violated antitrust rules, the EU said in an emailed statement. It didn't name the manufacturers visited.
Daimler reported a possible cartel as part of the EU's leniency program that allows firms to dodge fines for being the first in line to report wrongdoing, Chief Financial Officer Bodo Uebber said last week, confirming previous press reports.
Investigators don't always need to visit a company's offices to collect documents or copy hard drives if firms have already offered evidence in return for a reduced fine, said Aitor Ortiz, an analyst for Bloomberg Intelligence.
"We have here two companies claiming for leniency and we don't know what information they are handing in, which products or services are involved," Ortiz said, referring to VW and Daimler. If officials "found some inconsistencies in the evidence gathered, they may prefer to go to the premises and collect the evidence by themselves to better define the line of the investigation."
EU Competition Commissioner Margrethe Vestager said in September that her officials are checking whether "completely legal cooperation" between German car companies isn't being confused with an illegal cartel.
BMW said it was raided last week, in an inspection the EU said it started on Oct. 16. Reuters reported the Daimler visit earlier on Monday.
BMW is irritated by its rivals' conduct, Markus Duesmann, who heads procurement for BMW, said in an interview with Frankfurter Allgemeine Sonntagszeitung. VW and Daimler both continued talks with BMW and didn't disclose they had informed the EU's antitrust authorities about cooperation discussions.
The three carmakers worked together on a wide range of technology including discussing the size of tanks for AdBlue, a liquid that helps neutralize pollutants in diesel exhaust, according to Der Spiegel. More than 200 employees participated in 60 working groups in areas including auto development, gasoline and diesel motors, brakes and transmissions, it said.
— With assistance by Christoph Rauwald
Before it's here, it's on the Bloomberg Terminal.
LEARN MORE