U.K. Manufacturing Sums Up Interest-Rate Dilemma for the BOE
By
CBI survey shows optimism at lowest since Brexit vote in 2016

Firms operating below capacity decline, pushing up prices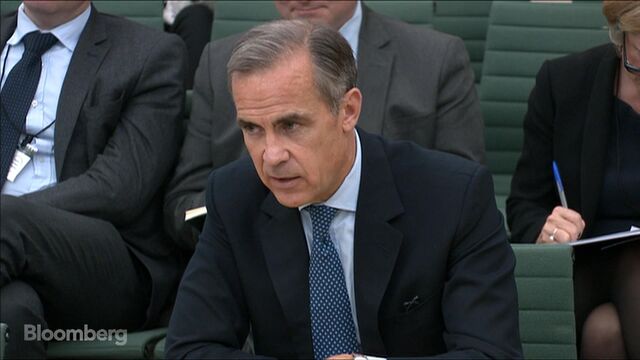 For a picturebook example of the dilemma facing Bank of England policy makers, look no further than the U.K. manufacturing industry.
On the downside for the economy, demand and confidence at factories is declining and investment is weakening, according to a survey from the Confederation of British Industry. But, in a sign of a potential squeeze that could intensify price pressures, the percentage of firms operating below capacity is the lowest in almost two decades and unit costs look elevated.
The survey demonstrates the complexity of the economy that the Monetary Policy Committee is trying to negotiate as members diverge on the need for an interest-rate increase. Some, including Governor Mark Carney, say reduced growth potential poses an inflation risk and action may be warranted within months. For others, there's little sign that headline price growth -- fueled by the weaker pound -- is filtering into wages.
There's also the fact that the economy appears weaker than in recent years, with data on Wednesday forecast to show expansion of 0.3 percent in the three months through September. That would match the pace of the previous two quarters, though it's half the average since 2012.

Despite that, a majority of economists expect the BOE to raise its key rate by 25 basis points to 0.5 percent on Nov. 2, which would be the first increase in a decade. Jane Foley, senior currency strategist at Rabobank, is among those predicting a hike, though she says it won't kick off a tightening cycle.
"It will be a case of one and then done," she said on Bloomberg Television on Monday. "And that's due to the uncertainties over investment, over growth in the U.K. over the next couple of years."
The CBI survey showed that just 43 percent of companies are operating below capacity, the lowest in since 1998. A gauge of average costs per unit of output rose to 32 in October, far fewer than the average of the previous five years.
A measure of total orders fell an 11-month low and a quarterly confidence gauge also declined. Investment in both plant and machinery and buildings weakened, with the latter dropping to weakest since the recession in 2009. The survey of 399 firms was conducted Sept. 26-Oct. 12.
— With assistance by Mark Evans, and Harumi Ichikura
Before it's here, it's on the Bloomberg Terminal.
LEARN MORE