Trump Campaign's Digital Director Set to Appear Before House Committee
By
Brad Parscale has been described as key figure in Russia Probe

Parscale has said he's unaware of Russian involvement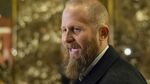 The digital director for Donald Trump's presidential campaign is scheduled to appear privately before the House Intelligence Committee this week, probably on Tuesday, as part of its probe into Russian meddling in the election, said a person familiar with the panel's plans.
The campaign official, Brad Parscale, has been described by committee members as an important figure in congressional investigations of Russian interference in the 2016 presidential election and potential collusion between the campaign and Moscow.
Parscale didn't immediately respond to a request for comment.
The Trump campaign paid Parscale's then-San Antonio, Texas-based firm, Giles Parscale, to advertise on social media and analyze voter data. He also used data to raise money online and select advertising platforms.
In July, Parscale tweeted that he had been invited to appear before the committee, and that he had voluntarily agreed.
"I am unaware of any Russian involvement in the digital and data operations of the 2016 Trump presidential campaign," Parscale said a statement, posted with the tweet. "The Trump digital campaign used the exact same digital and marketing strategies that are used every day by corporate America."
He said the campaign worked with staff provided by Facebook Inc., Alphabet Inc.'s Google and Twitter Inc., who help coordinate the use of their advertising tools. Officials from the three companies are appearing at separate Senate and House intelligence committee public hearings next week.
In his tweet, Parscale also said digital marketing specialists from the three companies worked "side-by-side" with campaign teams from Giles-Parscale, the Republican National Committee, and Cambridge Analytica, a data firm backed by allies of the president, "to run a professional and winning campaign."
The committee is also reviewing work done for the Trump campaign by Cambridge Analytica.
Before it's here, it's on the Bloomberg Terminal.
LEARN MORE