Spain Confronts Catalan Separatists: A Guide to a Critical Week
By , , and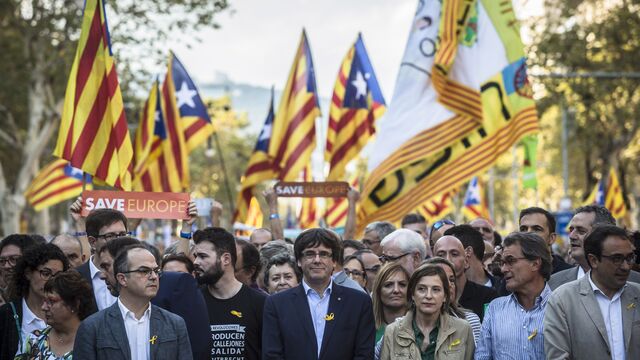 Events are piling up in Spain. As Prime Minister Mariano Rajoy prepares to take more power away from the rebel Catalan government, the separatists still have one card to play -- a declaration of independence.
High points in the week's drama include unprecedented meetings in the dueling parliaments of Madrid and Barcelona, and possible civil disobedience in Catalonia.
Here's a guide to what's in store (all times are Central European Time and tentative as of publication):
Monday
Catalan separatist leaders met to plan response
Senate in Madrid creates cross-party joint committee to consider measures to wrest control from Catalonia under never-before use of Article 155 of Spanish Constitution
Tuesday

Joint Senate committee begins acting, 27 members from Constitutional and Self-Governing Regions committees, 1 p.m.
Thursday
Catalan Parliament to meet in full session, 9 a.m.; regional president could make unilateral declaration of independence
Senate: Joint committee head begins drawing up proposal to approve Article 155 measures, noon
Full committee debates, votes on proposals, 5 p.m.
Friday

Senate deadline to receive dissenting votes from joint-committee members, 9:30 a.m.
Full Senate meets to consider Article 155 measures, 10 a.m.
Catalan Parliament possibly extended over from Thursday
Spain's Cabinet meets, time to be determined
Saturday
Official Bulletin of Spain publishes any Article 155 measures adopted by Senate. Rajoy's new powers would take effect from the following Monday
The Reference Shelf

Before it's here, it's on the Bloomberg Terminal.
LEARN MORE