Richest Premier League Teams Renew Their Case for More Money
By and
Big six clubs want a larger share of growing overseas revenues

Proposal needs support from 14 teams in order to pass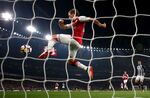 On Wednesday, Premier League teams plan to resume increasingly contentious discussions over how to allocate the game's growing broadcast revenue.
The six biggest clubs -- Manchester United, Manchester City, Arsenal, Tottenham, Liverpool and Chelsea -- say they deserve an even larger share of the 1 billion pounds ($1.32 billion) a year the league gets for overseas media rights.
They've been seeking a payout structure that awards the first-place team twice as much money as the club that finishes in last place. Currently, the top team gets 1.6 times than the last-place finisher.
Premier League Executive Chairman Richard Scudamore supports the proposed payout ratio, saying it's fairer than those of rival European leagues, where the first-place team in Italy gets 4.7 times the last-place club. In Spain the payout is 3.5 to 1 and in France 3.4 to 1.
At least 14 of the 20 clubs in the Premier League must approve the proposal for it to pass.
A Premier League spokesman declined to comment beyond confirming Wednesday's meeting. The contentious talks, among the most acrimonious in the league's 26-year history, foreshadow even more difficult negotiations when the league seeks a new domestic broadcast contract. Facebook and Amazon, newly in the market for live sports, are expected to challenge BT and Sky in bidding for the rights.
Before it's here, it's on the Bloomberg Terminal.
LEARN MORE