A Rare Feat in Argentina: Pollsters Called the Election Right
By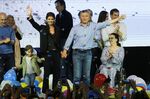 Pollsters called Argentina's mid-term election right on Sunday, a rare feat after missing Brexit, Colombia's peace referendum and the U.S. presidential election.
The question is whether traders listened to those polls last week and priced in President Mauricio Macri's coalition gaining seats in Congress and winning the key senate spot for Buenos Aires province. Macri's candidate Esteban Bullrich won Buenos Aires by 4 percentage points -- in line with all the major polls that forecast his victory by a margin of 2 percentage points to 4 percentage points.
Yields on Argentina's 2026 dollar bonds are down 8 basis points on Monday morning. Equity and currency markets will open shortly.
Before it's here, it's on the Bloomberg Terminal.
LEARN MORE